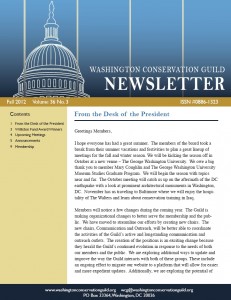 WCG's Fall newsletter (777K PDF file) marks the end of an era. Thanks to the website redesign, news can now easily appear as-it-happens. No need to save it up for a quarterly newsletter. No risk of the newsletter coming out after an event or job opportunity mentioned inside is over.
Annie Wilker, previously the Newsletter Editor, is now the Web Content Editor. Annie is in charge of posting news, job opportunities, meeting summaries, etc. to this site. As always, please send any news you may have to Annie at the new address news@washingtonconservationguild.org.
Erin Blake, formerly the Website Guru (anyone know the origin of that strange title?) is now the Web Administrator. Erin is responsible for things like maintaining the structure of this site, taking care of annual renewals (e.g. domain name registration, FlickrPro account), and ensuring continuity of online accounts like PayPal and Facebook by transferring admin privileges as people rotate off the board.