Archive January 2013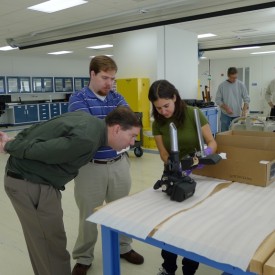 Two summer Internships at the Smithsonian National Air and Space Museum in objects conservation
A summer internship program has been launched at the National Air and Space Museum's Udvar Hazy center in the brand new Emil Buehler laboratory located in Chantilly VA

Hands-on Digital Imaging for Conservation and Museum Professionals
This workshop will focus on current best practices for the capture, processing and management of digital photography and conservation documentation.
March 12-15, 2013, Washington, DC

The University of Virginia Library is pleased to offer the opportunity of a six-week internship for the summer of 2013 in their Preservation Services Department, working with the Book Conservator for the University Library Collections.  

The Gang's All Here, Now What? Current Challenges for Collection Care
Presented by Rebecca Fifield, Collections Manager for the Department of the Arts of Africa, Oceania, and the Americas at the Metropolitan Museum of Art. RSVP required.


2013 Analytical Studies Group Intern Program at MCI
Sponsored by NSF REU Sites Program
The Smithsonian Museum Conservation Institute in conjunction with the National Science Foundation Research Experiences for Undergraduates (NSF REU) Sites Program is offering short-term opportunities for undergraduates
Fellowship Program Administrator, National Museum of African American History and Culture (NMAAHC)

The National Museum of African American History and Culture (NMAAHC) is the Smithsonian museum devoted to the study, exhibition and documentation of African American history and culture.

The Washington Conservation Guild would like to extend heartfelt thanks Conservation OnLine (CoOL) and to Walter Henry, CoOL's guiding light, for welcoming WCG to the web way back in October, 1997. For over fifteen years, CoOL hosted our website
The Outreach Booth will be at the St Clement's Island / Potomac River Museum Antiques Fair again this year. Howard needs volunteers to help talk with people about conservation. It's January 26, from 10 am to 4 pm, St Mary's County, MD. Can you lend a hand? Please contact Howard at wellmanconservation@comcast.net.

The Washington Conservation Guild presents the fourth meeting of the 2012/2013 season! Please join us Thursday, January 10, 2013 for our annual "3-Ring Circus" with three concurrent sessions, preceded by a reception and exhibitors' showcase.
Reception with exhibitors:  5:00 p.m.
Presentations begin:  6:00 p.m.