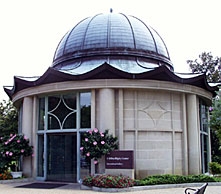 The Washington Conservation Guild presents the fourth meeting of the 2012/2013 season! Please join us Thursday, January 10, 2013 for our annual "3-Ring Circus" with three concurrent sessions, preceded by a reception and exhibitors' showcase.
Reception with exhibitors:  5:00 p.m.
Presentations begin:  6:00 p.m.
Ring 1 – Up, Up & Away: The Conservation of Aviation & Space-related Objects
"To Infinity & Beyond:  The Conservation of Space Artifacts for the Moving Beyond Earth Gallery" Stephanie Spence, National Air & Space Museum and Dawn Planas, Art Conservation Graduate Student, Buffalo State College
"Aim High, Crash Magnificently! Or, the Samuel P. Langley Collection Preservation Project" Steven Pickman, National Air & Space Museum
"NURFLÜGEL! Conservation of the Bat-Wing Ship (the Horten Ho9V3): Background, Challenges and Surprising Discoveries" Lauren Horelick, National Air & Space Museum
Ring 2 – Oral Histories of Three Stripes: Book and Paper Conservators; Contemporary Artists; and Native American Communities
 "Genealogy and Interviews with local Washington Book and Paper Conservators, Binders, and Artists: the Guild of Book Workers Documentation Project" Jana Dambrogio, National Archives and Records Administration
 "Artists and Oral History: Building a Research Archive at Glenstone" Anne Reeve, Glenstone
"Interviews with Native Artists and Communities at the National Museum of the American Indian" Marian Kaminitz, Susan Heald, Emily Kaplan, and Kelly McHugh, National Museum of the American Indian
Ring 3 – Conservation of Modern Materials and Working with Living Artists
"Dancing on the Edge: Navigating the Path of Conserving a Contemporary Plastic Resin Sculpture" L. H. (Hugh) Shockey Jr., Smithsonian American Art Museum
"Life after Death: Reviving Post-modern Materials in the Exhibition, Nam June Paik: Global Visionary" Michael Mansfield, Smithsonian American Art Museum
"The Implementation of an Artist Interview Program at the Hirshhorn" Steven O'Banion, Hirshhorn Museum and Sculpture Garden
The following exhibitors will be present during the reception:
CCS Inc. ~ Innovations in Lighting Technology
Hirox-USA
Hollinger Metal Edge
Larson-Juhl
Preservation Technologies, L.P. / The MediaPreserve
Tiffin Metal Products
Tru Vue
University Products
The meeting will be held at the S. Dillon Ripley Center
The S. Dillon Ripley Center
Smithsonian Institution
1100 Jefferson Drive SW
Washington, D.C.
The closest Metro stop is Smithsonian (Mall exit) on the Orange and Blue lines. Limited street parking is available.
Enter the copper domed kiosk on Jefferson Drive (on the south side of the Mall) between the "Castle" and the Freer Gallery of Art.  Take the elevator or stairs down to the third level to find the reception and meeting rooms.
This event is free to WCG members
$5 for guests and non-members