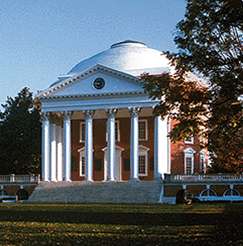 The University of Virginia Library is pleased to offer the opportunity of a six-week internship for the summer of 2013 in their Preservation Services Department, working with the Book Conservator for the University Library Collections.  The purpose of the internship is to perform conservation treatment on two items from the Small Special Collections Library.  The first item is the Diary of John B. Minor, a faculty member from the mid to late 19th century.  The treatment proposal at this time is to dis-bind, wash, alkalize and encapsulate the pages of the diary.  The intern will refine this plan after examining the diary and in consultation with the Book Conservator and Library's curators.  The second item is an early volume of the Chairman of the Faculty Minutes, treatment has not been specified and the intern will be expected to prepare the treatment plan in consultation with Library staff and complete treatment within the time frame of the internship.
Treatment will be performed in the UVa Library Conservation lab, a small but well-equipped facility with a 4'x6' treatment sink, de-ionized water system, fume trunk, suction platen, and the usual tools. The diary and notebook display a variety of damage consistent with age and the delicate nature of daily-use stationer's bindings. Pre-treatment photo documentation will be performed by the Library's Digital Services Department prior to the intern's arrival.  It is expected that the intern will participate in the after-treatment photo-doc at the end of the six week internship.  Likely treatments include dry cleaning, adhesive removal, paper mending, dis-binding, guarding of signatures, sewing and Mylar encapsulation using an ultrasonic welder.  The intern will be required to give a presentation to library staff at the end of the internship, describing the project overall and highlighting a few specific details from the treatments.
The Preservation Services Department staff includes a Preservation Administrator/ Department Head, Book Conservator, Audio Visual Conservator and 2 book repair technicians who provide expertise to the 10 branches of the UVa Library system.
The Library is offering a $4000 stipend to support the internship.  The internship can be scheduled for any consecutive six-week period between June 4, 2013 and August 31, 2013.  We will be accepting applications until the position is filled.  The ideal candidate will have prior treatment experience with bound materials.
Applicants should send a resume, letter of interest and the contact information for three professional references via email to Eliza Gilligan, Conservator for University Library Collections at emg3b@virginia.edu.
Applicants must be  US citizens.