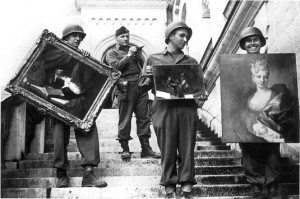 The Defense Education Forum of the Reserve Officers Association invites you to a panel discussion.
Thursday, October 17, 2-4:30 pm
A little understood mission of the U.S. military upon entering an area of operations is the preservation of cultural objects within that area.  A branch of the Army, Civil Affairs, primarily found within the United States Army Reserve, has within it a Cultural Affairs functional specialty.  A movie dedicated to this cultural preservation mission during WWII will be released later in the fall – "The Monuments Men", starring George Clooney, Matt Damon, and Cate Blanchett.  We hope to have a trailer for the movie to provide an exciting introduction!
This small group of courageous men and women was instrumental in saving some of Europe's most important cultural treasures. Our panel discussion will bring together a group of experts to provide an overview of the WWII Monuments Men (then known as the  Monuments, Fine Arts and Archives Team and in later doctrinal changes known as the Arts, Monuments, Archives Team) and how their proud tradition has been carried on today by a handful of Civil Affairs functional specialists. We will explore the role of Civil Affairs during future contingencies now that the U.S. is a party to the 1954 Hague Convention for the Protection of Cultural Property in the Event of Armed Conflict.
Panelists include: Lynn H. Nicholas, MAJ (Ret.) Corine Wegener, COL Christopher Varhola, and William K. Lietzau. The panel will be moderated by Col Jim Carr (Ret.)
ROA's Minuteman Memorial Building
One Constitution Ave. NE
Washington, DC 20002