This yea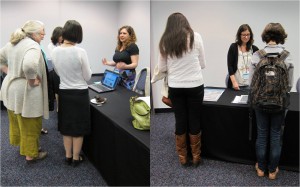 r the Washington Conservation Guild will be hosting its first Portfolio Day. Several of the North American graduate programs in conservation hold an open house to allow prospective students a chance to meet current students and learn about the curricula and entrance requirements. WCG is hosting a similar event this year, giving area interns a chance to gain insight into the path to becoming a conservator.
This informal event is an opportunity for students and interns seeking advice about graduate programs in conservation. Current graduate students and recent graduates will be sharing their pre-program portfolios and recent electronic portfolios, as well as tips on how to create an electronic portfolio.
WCG's First Annual Portfolio Day will be on Thursday November 21, 2013 from 5:00 pm to 6:30 pm in the Reynolds Center at the Smithsonian American Art Museum (on the F Street side of the building). All are welcome to come and we encourage established professionals to come support the area's emerging professionals as well.
Please RSVP to interns@washingtonconservationguild.org if you are interested in attending.