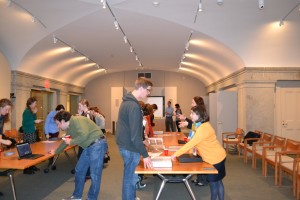 This has already been an exciting year for the Washington Conservation Guild.  I hope everyone who attended enjoyed meeting up with the conservation community and hearing the interesting talks. If you have not yet joined your colleagues this is what you have missed:
• In September we were introduced to the area interns and fellows at an informal happy hour at the roof top bar at the Beacon near DuPont Circle. Roughly thirty people braved the late summer storm to enjoy libations and conversation.
• The October meeting was a special event at the National Academy of Sciences. This was our first partnership with the Cultural Programs Office of the National Academy of Science, the first time the WCG formally invited the Association of Preservation Technology DC Chapter to participate, and the largest event in the history of the Guild. More than 225 people gathered in the historic building to hear about its restoration from WCG members David Olin (Olin Conservation, Inc), Michael Kramer (The Gilders' Studio), Maria Bonet (FC Vogt Company), and Lindy Gulick (Conservation Solutions, Inc.).
• We had one of best attended Baltimore meetings in November. The Walters Art Museum opened its doors for us to hear Terry Dreyman-Weisser speak about her experiences in establishing and teaching at the Iraqi Institute for the Conservation of Antiquities and Heritage (IICAH).  She spoke eloquently about the role IICAH has played in bridging the different cultures that are present in Iraq through the common goal of the conservation of cultural heritage.
• WCG held its first portfolio day for pre-program interns. This was an opportunity for them to get tips from third-year interns and recent graduates. It also served as an opportunity for established conservators to see what the next wave of conservators are doing.
• And, recently, we held our annual holiday party where we focus on the less technical aspects of our work. After a fabulous holiday spread and glasses of bubbly, we were honored to hear Colette Loll-Marvin, founder of Art Fraud Insights, speaking about fakes and forgeries in the art world. Her talk was informative, tinged with humor, and had a few surprises.
The next few months will be equally as busy with the Annual 3-Ring, intern talks, a workshop and more. But it will not be the same without your participation and the participation of your colleagues. Our membership continues drop, especially among mid and advanced career conservation professionals. We need to grow our membership in order to continue to offer such great programs. Please encourage your colleagues to become members of WCG by donating $30.00.  As a 501(c)(3) non-profit organization every bit of your membership donation is tax deductible and every penny goes to funding our programs and activities.
Please feel free to contact me directly with any ideas, comments, and suggestions. This is truly your organization. I and the entire Board appreciate your input.
Jane E Klinger, President, president@washingtonconservationguild.org