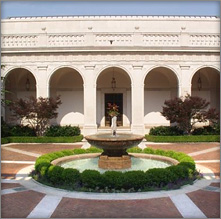 Andrew W. Mellon Fellowship in Chinese Painting Conservation
Freer Gallery of Art and Arthur M. Sackler Gallery
Smithsonian Institution
The Smithsonian Institution's Freer Gallery of Art and Arthur M. Sackler Gallery, the national museums of Asian art for the United States, are offering a one-year fellowship in Chinese painting conservation.  This fellowship offers intermediate to advanced-level training for a candidate who demonstrates a commitment to a career in Chinese painting conservation.  The fellow must have a high level of technical skill, experience, and knowledge of the ethical and professional principles that apply to the conservation of works of art.  The fellow will receive training under the guidance of specialists in the Department of Conservation and Scientific Research. Practical instruction will focus on traditional materials and methods for restoring and remounting Chinese paintings in combination with modern conservation principles and practices. Training may include various techniques including dyeing and preparing mounting papers and silks, applying lining papers, compensating for losses, repairing creases, inpainting, and studying mounting styles.  The fellow will also gain practical experience in museum operations and be expected to participate in departmental activities including object examination and documentation, exhibition rotations, and storage housing.
The fellowship is a one-year full-time position, beginning in spring 2014, with the possibility of renewal for an additional year. The stipend will be $45,000 with up $5,000 of additional funding for travel, research and related expenses.
Application deadline: January 24, 2014.
Applications should include a letter of interest, curriculum vitae and the names and contact information of three references. Please email applications to dcsr@si.edu
Andrew Hare
Supervisory Conservator, East Asian Painting Conservation Studio, Department of Conservation and Scientific Research
Freer Gallery of Art and Arthur M. Sackler Gallery, Smithsonian Institution, PO Box 37012, MRC 707, Washington DC 20013-7012