Each year the Hirshhorn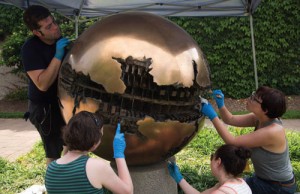 Museum and Sculpture Garden implements an outdoor sculpture maintenance program.  For the 2014 season, the Museum is offering several paid and unpaid conservation technician internships to assist with the outdoor sculpture program along with the activities in the contemporary art conservation laboratory. The Sculpture Conservation Internship is designed for candidates who are seriously considering a graduate level degree in conservation or who are currently enrolled in an accredited art conservation degree program. These participants will receive a hands-on introduction to outdoor sculpture conservation and the unique considerations of conservation in a contemporary art collection.
Internship Scope
The conservation interns will carry out a variety of sculpture conservation treatments on the outdoor sculpture and the indoor contemporary art collections, document sculpture treatments through treatment reports and digital documentation, learn the properties and application of a wide range of conservation materials, and utilize specialized tools and analytical equipment in the performance of their daily duties.  In addition to treating and examining artwork, the intern will participate essential routine tasks such as conducting gallery inspections, monitoring environmental conditions in the collection spaces, and maintaining a clean work space.
Outdoor Sculpture Collection Maintenance
The Hirshhorn Museum has more than seventy sculptures situated throughout its sculpture garden and plaza areas.  The objects, which range in size from three to more than sixty feet in height, are made from a variety of materials including stone, bronze, iron, aluminum, and steel. The outdoor sculptures receive annual maintenance conservation treatments that may include detergent washing, the application of protective surface coatings, repainting, and structural repairs. This work is performed mostly outdoors, is strenuous, and often requires working in very hot and humid conditions.
Qualifications
The team of interns is assembled to include a wide range of experience levels, providing an equal opportunity to candidates with differing backgrounds in conservation.  However, an interest in outdoor sculpture and/or contemporary art conservation should be exhibited by the candidate in his or her application materials.
Internship Duration
As the outdoor sculpture maintenance season spans from May to October, the 12-week full-time internships are roughly divided into two sessions: the first session commences in May; the second in late July with actual start dates dependent upon the schedules of the successful candidates.
Stipends
The internship positions can be highly competitive and only two of the applicants may be awarded a $4000 stipend for a 12-week full-time internship. Candidates should specify in their application if they wish to be considered for an unpaid position if they are not selected for the first round of paid internships.
Application Process
Applications must be completed online at https://solaa.si.edu no later than Friday, February 14, 2014.  The cover letter should indicate preference of session dates and whether the candidate wishes to be considered for the unpaid internship. Any questions about the internship should be directed to: Gwynne Ryan at RyanGW@si.edu.
To learn more about the Hirshhorn Museum and Sculpture Garden collections and programs, please visit hirshhorn.si.edu