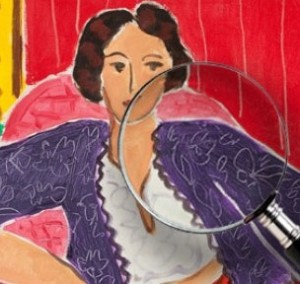 Summarized by Leah Bright, Pre-program Intern at the Smithsonian American Art Museum and the Smithsonian Freer Gallery of Art
Intent to Deceive: Fakes and Forgeries in the Art World
Presented by Colette Loll, Art Fraud Insights LLC
"No one is free from misattribution and forgery," warned Colette Loll as she gave WCG members a fascinating peek into the world of art fraud and forgery in the warmth of the Folger's Haskell Center for the WCG Holiday Meeting.  In addition to investigating art fraud with her firm Art Fraud Insights, LLC, Ms. Loll is also a curator, and this evening's lecture presented a taste of the material from her upcoming exhibition Intent to Deceive: Fakes and Forgeries in the Art World.  In her lecture, Loll profiled the methods and motivations of four infamous forgers and discussed some of the consequences of forgery on the art world.
She first chronicled Han Van Meegeren, a Dutchman who scorned the art world and took perverse delight in sabotaging it during the 1930s and 40s.  Van Meegeren used 17th century canvases to forge Vermeers, grinding down the paint layer to the original ground using a pumice stone. He mixed his own paint using period pigments, even grinding lapis lazuli.  He baked canvases, then rolled them and coated them with India ink to replicate years of grime build-up in the craquelure.  He also replicated hardened oil paints with the inclusion of Bakelite, an early form of plastic, which would later prove problematic in the long term, as Loll explained, as it can take on an enigmatic wavy texture.  As an infamous forger of great masters, Van Meegeren's work itself has become globally renowned, taking coveted positions at Dutch institutions.
Next, Loll discussed the career of Hungarian-born forger and con man Elmyr de Hory who spent four decades fooling the art world.  De Hory crisscrossed Europe, creating myriad identities along the way, scouring flea markets for materials to forge artists from Picasso and Matisse to Renoir and Modigliani.  He later settled down and took on a new identity in the island community of Ibiza, Spain.  As he perpetually eluded capture, de Hory became somewhat of a folk hero, but after years of evading law enforcement, was extradited to France in 1976.  Before he could be taken away, however, de Hory eluded final capture through suicide.  His life was documented by Clifford Irving in the biography Fake, and in F is for Fake, Orson Wells' documentary essay film.  However, the most accurate account of his life and career was chronicled in "The Forger's Apprentice" in which Loll served as a primary researcher.
Loll also chronicled the life of forger John Myatt, who collaborated with con man John Drewe.  Drewe fooled the contemporary art world by infiltrating archives, where he placed forged documents to establish false provenance.  Myatt was a struggling single dad making extra cash selling paintings when he was taken in by the charismatic Drewe, the face of the operation.  Myatt used a recipe of coffee grounds, vacuum sweepings, and KY Jelly to simulate age on his forgeries, which included modern and contemporary artists such as Chagall, Giacometti, and Matisse.  After the con unraveled Myatt served only four months of his sentence before developing a lucrative career creating "Genuine Fakes" and painting the portraits of celebrities in the styles of master artists.  Myatt and Drewe's saga was chronicled in the book Provenance by Laney Salisbury.
Lastly, Loll discussed the enigmatic forger Mark Landis, who did not sells his forgeries, but instead would donate them to art museums using fake identities, including that of a priest.  Landis would simply print out digital copies of drawings, watercolors, and pastels, glue them to canvases, then paint and draw over the printout.
Loll's exhibition will include not only captivating anecdotes but also discussions of the serious implications of art forgery, scientific and didactic information, and technological advances in the field.  In her lecture, Loll lauded art as the essence of the creative process, arguing that the introduction of fakes into the field compromises this authenticity and truth.  In an increasingly digital and globalized world, authenticity is of growing importance, and an emphasis on prevention and education is integral to protect authenticity and culture.  The exhibition Intent to Deceive: Fakes and Forgeries in the Art World will travel to four venues, opening at the Springfield Museum, in Springfield, MA on January 21st.
Ms. Loll's exhibition was just featured on the cover of the New York Times Arts section on New Year's Day: http://www.nytimes.com/2014/01/01/arts/design/so-valuable-it-could-almost-be-real.html?_r=1