Archive February 2014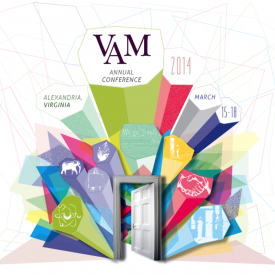 The WCG booth will make its debut at the Virginia Association of Museums (VAM) Conference from Sunday March 16 and Monday March 17.

The WCG booth will make its annual outing to the Historical Society of Frederick County Treasured Heirloom Event on March 15.

The Potomac Section of the American Industrial Hygienist Association and The National Capital Chapter of the Alliance Hazardous Materials Professionals are pleased to host
The 2nd Annual EPA Update
Thursday April 10, 2014
Residence Inn, Arlington Pentagon City
550 Army Navy Drive
Arlington, VA 22202
8:00 AM – Noon

An evening lecture with authors Andrea Kirsh and Rustin Levenson 
March 3, 2014
6:00 PM
McEvoy Auditorium
Smithsonian American Art Museum & National Portrait Gallery
8th and G St. NW
Washington, DC, 20001
Authors and painting conservators, Andrea Kirsh and Rustin Levenson, present a lecture on the study of paintings as physical objects.  The authors will address how the physical attributes of an artwork can illuminate important critical, historical, and social issues. 

The University of Virginia Library is pleased to offer the opportunity of a six-week exhibit internship for the summer of 2014 in their Preservation Services Department, working with the Book Conservator for the University Library Collections.  The purpose of the internship is to prepare UVa Library materials for the Library's October 2014 Civil War exhibit.  The collection items have not been selected at this time but it is anticipated that they will comprise a variety of books, printed broadsides, maps and manuscripts. 

Thursday March 13, 2014
9:30 am to 4:30 pm
Limited spaces remaining.

Emily Schuetz Stryker, age 26 of Baltimore passed away suddenly on February 11, 2014.

Do you need to be "active in a professional organization" to meet that "Outstanding" level of your performance appraisal?  Have you secretly been wishing for a different line-up of speakers at WCG meetings?  Is there something you wish you could change about the way the Guild operates?  Ever wish you knew the names and contact details of every WCG member? 

WCG presents the March Meeting of the 2013/2014 Season Please join us Thursday, March 6, 2014 for the presentation:
William H. Gross Stamp Gallery: Preview of the New Vertical Open Storage & Display
The Foundation of the American Institute for Conservation of Historic and Artistic Works, in collaboration with the Smithsonian National Museum of the American Indian, National Gallery of Art, Library of Congress, and the Smithsonian National Museum of American History, presents a Collaborative Workshop in Photograph Conservation