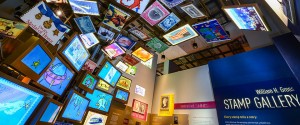 WCG presents the March Meeting of the 2013/2014 Season Please join us Thursday, March 6, 2014 for the presentation:
William H. Gross Stamp Gallery: Preview of the New Vertical Open Storage & Display
Can a museum create an exhibit case for extended display of fragile 2-D artifacts? In the new W. H. Gross Stamp Gallery in the former site of the Capital City Brewery, the Postal Museum staff worked to find a method for the display of some of the collection's great rarities – safely, securely and in a manner that both stamp collectors and non-collectors would fine interesting and informative. http://www.postalmuseum.si.edu/stampgallery/index.html
Linda Edquist, Conservator and Head of the Preservation Office at the Postal Museum will present a brief talk about the overview of the 5+ year process and then attendees will have the opportunity to tour the 7 new galleries – including the 350 new pullout frames.  Goppion will also make a brief presentation.  NPM staff and Goppion representatives will be available to answer questions.
The meeting will be held at the National Postal Museum, Smithsonian Institution, 2 Massachusetts Ave. NE, Washington, DC 20002
5:00 p.m. – 6:00 p.m. Reception Sponsored by Goppion
6:00 p.m. – 7:00 p.m. Speaker and Gallery Tour
Enter at the corner of Massachusetts Ave. & 1st St. NE into the Historic Lobby and then into the Gross Gallery on the left side of the lobby entrance.  There is a security checkpoint there.  The meeting will be on the upper level in the Byrne Education Loft on the mezzanine level of the gallery.  The stairs and elevator are across from the Information Desk.  The reception will take place on the overlook area.  The talk will be in the EdLab Innovation Center at the back of the upper area.
Goppion is generously sponsoring the reception.  Visit their website for more information on their display cases and other products at http://www.goppion.com
Public Transportation: Union Station
There are parking garages and metered street parking nearby.
This event is free to WCG members, $5 for guests & non-members.