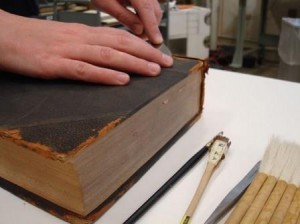 The University of Virginia Library is pleased to offer the opportunity of a six-week exhibit internship for the summer of 2014 in their Preservation Services Department, working with the Book Conservator for the University Library Collections.  The purpose of the internship is to prepare UVa Library materials for the Library's October 2014 Civil War exhibit.  The collection items have not been selected at this time but it is anticipated that they will comprise a variety of books, printed broadsides, maps and manuscripts. 
The intern will work with the Book Conservator to determine appropriate display specifications for each item, including fitting books for cradles, creating custom cradles, backing and wrapping flat documents and encapsulation.  The intern will perform minor treatment as necessary on exhibit items; possible treatments include dry cleaning, humidification and flattening, mending of minor paper tears, stabilization of case bindings.
Exhibit preparation will take place in the Small Special Collections Library and treatment, if necessary will be performed in the UVa Library Conservation lab, which is equipped with a 4'x6' treatment sink, de-ionized water system, fume trunk, suction platen, and the usual tools.
The intern will be required to give a presentation to library staff at the end of the internship, describing the project overall and highlighting a few specific challenges.
The Library is offering a $4000 stipend to support the internship.  The internship will be scheduled for a consecutive six-week period between June 2, 2014 and August 1, 2014.  We will be accepting applications until the position is filled.  The ideal candidate will have prior experience with exhibit preparation and minor treatment of library and archive materials.
Applicants should send a resume, letter of interest and the contact information for three professional references via email to Eliza Gilligan, Book Conservator for University Library Collections at emg3b@virginia.edu
Applicants must be a US citizen.