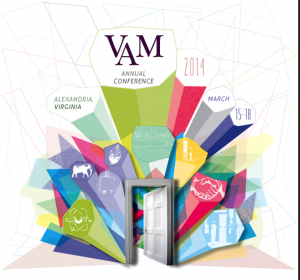 The WCG booth will make its debut at the Virginia Association of Museums (VAM) Conference from Sunday March 16 and Monday March 17.
http://www.vamuseums.org/displaycommon.cfm?an=16
We need a WCG member to help staff the booth on Sunday. Duties include mixing and mingling with Conference attendees who may be interested in WCG membership. This will also be a great networking opportunity. This is a great way to meet those in the field from both the Virginia and Washington DC area.
Schedule:
Sunday, March 16
10 am-2 pm Set up window
5 pm – 6:30 pm Welcome reception
Monday, March 17
10 am – 11 am Coffee Break in Exhibitor Hall
12:30 pm – 2 pm Lunch with exhibitors
5:30 pm – 7 pm Evening Reception in Exhibitor Hall
Please contact Rick Badwey rbadwey@museumframing.com or 703-299-0100 for more information!