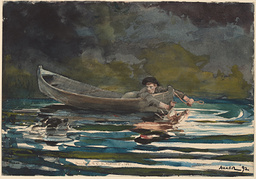 Date: Monday, September 8
Time: 10:30 a.m. – 11:30 a.m.
Location: National Gallery of Art, West Building Auditorium
6th and Constitution Avenue NW, Washington, DC 20565
No registration necessary.
Cooperation between science and the humanities illuminates the past and improves conservation techniques. In conjunction with the publication of "Science and Art: The Painted Surface," we are pleased to invite you to a roundtable discussion of how technical analysis of art contributes to the care and understanding of our cultural and artistic heritage. In particular, we will discuss how identifying specific colorants used by artists leads to insight into their work. We will focus on the use of blue colorants in Japanese watercolor paintings and the evolution of the palette in Winslow Homer's watercolors.
Roundtable participants:
Antonio Sgamellotti
Academician of Lincei and Professor of Inorganic Chemistry
University of Perugia
Brunetto G. Brunettti
Full  Professor of General and Inorganic Chemistry
Univeristy of Perugia
Marco Leona
Scientist in Charge, Department of Scientific Research
The Metropolitan Museum of Art
Barbara Berrie
Head of Scientific Research
National Gallery of Art
Charles Brock
Associate Curator
National Gallery of Art