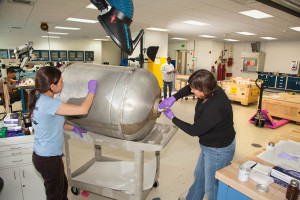 The Smithsonian Institution has a requirement for the services of a conservation professional to perform artifact condition assessments, documentation, treatments and treatment reports for the Milestones of Flight gallery renovation at the National Air and Space Museum.  The position will be for a not-to-exceed 18 month period.  Work will be performed in the Emil Buehler Conservation Laboratory at the Steven F. Udvar-Hazy Center in Chantilly, Virginia and at the National Air and Space Museum on the National Mall, Washington DC.
The Milestones of Flight gallery contains seventy of the Nation's most historically significant aerospace artifacts, including the "Spirit of St. Louis" and the Apollo 11 Command Module.  All of the artifacts in this gallery will be given thorough evaluations and necessary treatments as part of a major gallery renovation.  Work will also be performed in support of the day to day activities of the Conservation Unit at the Udvar Hazy Center.
Salary Range: $63,091 to $71,504 per year
Knowledge, Skills, & Abilities Required: For this position, specialized knowledge is defined as work performing condition assessments and remedial conservation treatments on a range of historic objects and works of art.  Experience with paintings and painted objects is an additional desired skill set.
Experience: You qualify for this position if you possess one year of specialized experience equivalent to at least the GS-09 level in the Federal Service or comparable pay band system.  Part-time and/or unpaid experience related to this position will be considered to determine the total number of years and months of experience. Be sure to note the number of paid or unpaid hours worked each week.
Or Education: Two full years of progressively higher level graduate education or masters or equivalent graduate degree related to the position.
Or a Combination: Education and experience may be combined to meet the basic qualifications; for example, a half year of experience and a half year of education in the field may be qualifying.
EEO Policy-The United States Government does not discriminate in employment on the basis of race, color, religion, sex (including pregnancy and gender identity), national origin, political affiliation, sexual orientation, marital status, disability, genetic information, age, membership in an employee organization, retaliation, parental status, military service, or other non-merit factor.
To apply for this position, please send your resume and letter of interest to Malcolm Collum at collumm@si.edu.