Archive November 2014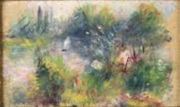 Please join the Washington Conservation Guild on Thursday, December 4, 2014 for the annual Holiday Party and Lecture of the 2014/15 season. Gregg S. Horner, FBI Special Agent, will be giving a lecture on the FBI Art Crime Program: Criminal Investigations Conducted by the Washington Field Office.

National Air and Space Museum: Conservation Internship
Project Title: Conservation Triage Project: Conservation Internship, Summer 2015
Location: Steven F. Udvar-Hazy Center, Emil Buehler Conservation Laboratory, Virginia
Duration: 12 weeks (May to August 2015 time frame)
Amount: $8000
Project Description: Two conservation interns are requested to assist the NASM Conservation unit with examination, documentation, triage treatment and rehousing of objects in the NASM collection.

Lunder Conservation Center presents
Gravitas and Gravity: Eric Fischl's Tumbling Woman II
An Evening with Objects Conservator, Helen Ingalls

Lecture Summary by
Austin Plann Curley
Conservation Intern at the Folger Shakespeare Library
Evaluating Storage Materials: Alternatives to the Oddy Test
Eric Breiting spoke October 2 on his ongoing work at Library of Congress to develop an alternative to the traditional Oddy Test better suited to paper-based collections. This WCG-sponsored event was held at the Holocaust Memorial Museum and drew a full audience of students and professionals from conservation and other cultural heritage professions.