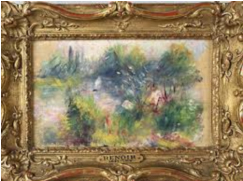 Please join the Washington Conservation Guild on Thursday, December 4, 2014 for the annual Holiday Party and Lecture of the 2014/15 season. Gregg S. Horner, FBI Special Agent, will be giving a lecture on the FBI Art Crime Program: Criminal Investigations Conducted by the Washington Field Office.
Special Agent Gregg Horner has been a criminal investigator with the FBI for 19 years; he specializes in violent crime investigations and was a member of the Washington Field Office Art Crime Team from 2006 to 2013. As part of this team, Special Agent Horner was intimately involved in the recovery of the Pierre August Renoir painting "Paysage bords du Seine" and the subsequent return of the painting to the Baltimore Museum of Art. He is currently assigned to the Baltimore Division, Frederick, Maryland Resident Agency.
 Reception 5:00 p.m. – 6:15 p.m.
Lecture 6:15 p.m. – 7:00 p.m.

The meeting will be held at the Haskell Center of the Folger Shakespeare Library, 301 E. Capitol St. SE, Washington, DC
*Please note that the Haskell Center is located on the corner of 3rd and East Capitol Street SE across from the main library!
Additional directions can be found at: http://www.folger.edu/directions.
Public Transportation:
Capitol South metro station (Orange/Blue Line) OR Union Station  (Red Line)
For more information about this meeting or WCG, please visit our website www.washingtonconservationguild.org. This event is free to WCG members, $5 for guests & non-members.