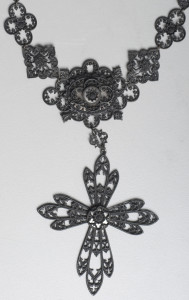 WCG presents the SIXTH Meeting of the 2014/2015 Season
Please join us FEBRUARY 5, 2015 for the presentation by Diana Galante
"I GAVE GOLD FOR IRON": HOW CAST IRON JEWELRY BECAME ALL THE RAGE AND HOW TO TURN A CANNON INTO A NECKLACE
The Industrial Revolution was in its infancy in the early nineteenth century in Germany, but iron foundries were producing a wide range of objects from arms to cookware.  When Napoleon's forces occupied Berlin, the women of Prussia were encouraged to turn in their gold jewelry to finance their liberation.  They received a cast iron charm in return that was worn with pride.  Soon, intricate and delicate cast iron jewelry became the fashion, but this craze was only possible due to the expert skill of foundry workers.  The Harvard Art Museums and the Birmingham Museum of Art have fine examples of these objects, and through examination, analysis, and casting tests, their composition and fabrication methods have been explored.
Diana Galante is an objects conservator at the National Museum of American History.  She conducted her study of cast iron jewelry as a Fellow at the Harvard Art Museums.
The meeting will be held at the
NORTHEAST NEIGHBORHOOD LIBRARY
MEETING ROOM
330 7TH STREET, NE
WASHINGTON, DC 20002
5:00 p.m. – 6:00 p.m. reception
6:00 p.m. – 7:00 p.m. speaker
The reception and meeting will be held in the Meeting Room on the lower level of the library.  The main entrance is the 7th Street Entrance.  Tell the Reference Librarian that you are attending the WCG event and they will direct you to the Meeting Room.
Transportation: Union Station- Red Line is the closest Metro Stop/ Street Parking is Available
This event is free to WCG members, $5 for guests & non-members.