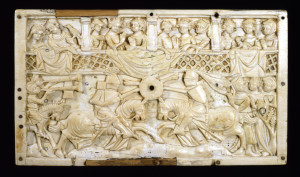 A two-day workshop: Monday, April 6 – Tuesday, April 7, 2015; 10 a.m. – 5 p.m.
The Walters Art Museum, Baltimore, Maryland
Organized by Terry Drayman-Weisser
Taught by Terry Drayman-Weisser and Bobby Mann
$220 AIC members; $400 non-members
Registration is first-come, first-served. Early registration is highly recommended, as the program is limited to 12 participants.
Overview:
This is a two day, hands-on workshop on identification of ivory and related materials, including elephant, mammoth, hippo, walrus, sperm whale, narwhal, bone, antler, and plastic substitutes, among others. It will also provide a review and discussion of the changing legal regulations affecting collections and exhibitions that may contain ivory.
Specimens of ivory and related materials from Bobby Mann's comprehensive collection will provide participants with the background for making visual identification using simple methods and tools. Objects from the Walters extraordinary collection spanning ancient times through the early 20th century will be available for close examination and identification.
This workshop is timely as there have been a growing number of confiscations of works containing ivory due to stricter CITES rules. Although a museum may be able to substantiate the provenance and date of a work containing ivory, often identification of the species of origin is required. This can be problematic, especially for older ivory, small specimens, and materials that are processed or decorated. Destructive testing is not usually an option.
This workshop will cover non-destructive identification techniques, a discussion of the changing regulations, and suggestions for managing materials loaned or borrowed during exhibitions.
Instructors:
William R. (Bobby) Mann, GG, PG, is a collector of unusual ivories, tusks, teeth, and skulls as well as natural and manufactured lookalikes. He has the largest collection of natural ivories and natural and manufactured look-alikes available for hands-on teaching. He is co-founder of the International Ivory Society (1996). Since 1996 he has been teaching ivory identification through his talks, seminars, and hands-on workshops. He is also the manufacturer of Ivory I.D. comparison kits. He is a (GG) Graduate Gemologist (GIA) (1982), a (PG) Professional Gemologist Columbia School of Gemology (1983) and ivory identification specialist. Formally retired as Captain of the Washington DC Fire Department after 28 years service, he is also past president of the National Capital Area Chapter of the International Society of Appraisers and president of the Washington, DC Chapter of the Gemological Institute of America Alumni.
Terry Drayman-Weisser has been associated with The Walters Art Museum since 1969 and has been Director of Conservation and Technical Research since 1977. She did her undergraduate work in Art History at Swarthmore College, where she also focused on the sciences and studio art. She studied physical metallurgy in the graduate program at The Johns Hopkins University and received her diploma with distinction in archaeological conservation from the Institute of Archaeology, University of London. Drayman-Weisser has trained many conservators who are now in leadership positions in other museums. She has lectured and published widely and is known for her work with metals, enamels and ivory. She also served as President and Fellow of the American Institute for Conservation. She was awarded the AIC Sheldon and Caroline Keck Award for mentoring conservators entering the field. She is also a Fellow of the International Institute for Conservation and has served on their Council. Drayman-Weisser has been involved with training conservators from Iraq, especially on the treatment of ancient, flood-damaged Nimrud ivories, and is currently working on a project to establish a conservation training program. She recently received the ICOM-US Service Award for her work in Iraq.
Questions?
Contact: Abigail Choudhury
FAIC Development and Education Coordinator
1556 15th Streeet, NW, Suite 320
Washington, DC 20005
202-661-8070
courses@conservation-us.org