Archive March 2015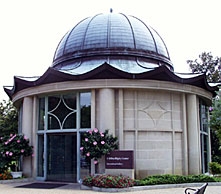 On January 8, 2015, as part of the Theory and Practice Ring, Sharon Norquest, Conservator, National Air and Space Museum, Smithsonian Institution; Amelia Kile, Museum Specialist, National Air and Space Museum, Smithsonian Institution; and David Peters, Industrial Hygienist, Office of Safety Health and Environment Management, Smithsonian Institution, gave a talk.
Conservator Sharon Norquest and Amelia Kile of the National Air and Space Museum recently underwent a yearlong project in the preparation of radioactive objects for display.

Dylan Smith, Robert H. Smith Research Conservator, National Gallery of Art, spoke as part of the Theory and Practice Ring at the "WCG's 3-Ring Circus." For conservators and conservation scientists, one of the most challenging aspects of quantitative x-ray fluorescence spectroscopy (XRF) analysis is reliable calibration to ensure repeatability and permit data comparison across institutions using the same instrument. 
Please come to the next meeting of the Washington Conservation Guild at the historic Silver Spring B&O Railroad Station in Silver Spring, MD on Thursday April 2nd, 2015
5:00 – 6:00 p.m.  Reception and opportunity to view the restored site
6:00 – 7:00 p.m.  We will have four talks presented by five local interns.
The focus of Fran Ritchie's (Andrew W. Mellon Fellow in Objects Conservation, National Museum of the American Indian) talk was her participation in a collaborative treatment project between The Alutiiq Museum and Archaeological Repository in Kodiak, Alaska and the Peabody Museum of Archaeology and Ethnology at Harvard University, in Cambridge, MA, funded by a grant from Save America's Treasures.

In his talk, John Greenwalt Lee (Materials Conservator, The John Greenwalt Lee Company) focused on the importance of context and clear, effective communication in architectural preservation projects. Architectural preservation is a highly collaborative process involving multiple teams and stakeholders each having specific goals.

Scott Nolley (Fine Art Conservation of Virginia) began his talk by addressing the idea of advocacy in its broadest forms.  Though the word advocacy is frequently used in modern contexts as a buzzword for progress (much like diversity or sustainability in other arenas) Nolley defined it specifically as "speaking and acting on behalf of oneself and others."
Diana Galante, Objects conservator at the National Museum of American History, presented her research on cast iron jewelry conducted at the Straus Center for Conservation and Technical Studies at the Harvard Art Museums (H/AM).

Spring 2015 Meeting of the DC Metro Chapter of the Association for Gravestone Studies
Saturday, April 4, 2015, 9 am – 4 pm
The DC Chapter of AGS's Spring Meeting focuses on two of DC's most historic neighborhoods, and thus some of its most historic cemeteries.  We will spend the morning in Georgetown, visiting Oak Hill and Mt.

Topics in Museum Conservation Lecture:  Hans Hofmann's Last Lesson: A Study of the Artist's Materials During the Last Decade of His Career
Dawn V. Rogala, Ph.D., Paintings Conservator, MCI
Thursday, April 2, 2015
10:45 am
MCI Theater, Museum Support Center