"A Day in the Life of Pre-program Interns at the United States Holocaust Memorial Museum"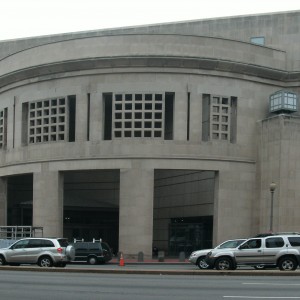 Summary by Ali Sims, Pre-program Intern
Written collaboratively by Adam Wiener and Allison Rabent and presented by Rabent, "Adam and Allison's Great Adventure" gave us a behind-the-scenes glimpse into the typical day of a Pre-Program intern and into the ongoing projects of the United States Holocaust Memorial Museum. Rabent graduated from the Rochester Institute of Technology in 2013 with a BS in Museum Studies and minors in art history and chemistry and has since interned at the Smithsonian Museum Conservation Institute, Buffalo Bill Center of the West, George Eastman House, and Villanova University. For Weiner, who graduated from Williams College in 2014 with a BA in Japanese, this was his first pre-program internship experience.
Weiner was unable to attend the meeting for personal reasons, but Rabent presented gracefully in his absence, discussing an array of projects that they worked on together in their time as interns at the USHMM. The first was a collection of Bissinger Internment Letters which were impacted together into a solid, inseparable mass. The donors were specifically interested in the content of these letters, so Wiener and Rabent collaborated to develop several possible treatment plans, including use of a humidity chamber, ultrasonic humidification, and immersion in deionized water. What eventually proved to be effective was a covered, layered system of Gore-Tex and damp diaper cloth which allowed the pages to be separated with a Teflon spatula within about 15 minutes. The two interns also enjoyed working on photo conservation projects, performing tasks like transferring photos from their original magnetic albums to archival PrintFile sleeves, and the use of PEL Ultrasonic Spot Welder to create more appropriately sized pockets, prioritizing retention of the original arrangement of photos on the page when possible. They also worked to rehouse various textiles, and developed a modular organizational system made of blue board to secure the fragile textiles and other small artifacts.
This presentation served not only as a description of the two interns' various projects, but as an excellent endorsement of the intern program at the USHMM as a whole. In addition to working on conservation-related projects, Rabent and Wiener were able to engage with multiple departments of the museum, including artifact rotations, loan meetings, lectures from experts, collaborating with contract conservators, and consulting with professionals from other museums and organizations. Throughout her discussion, Rabent frequently smiled at fond memories and rapport developed with USHMM staff members. Their experience paints the picture of a museum that truly cares about intern enrichment and investing in conservators in training.