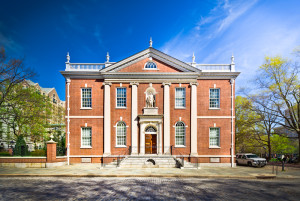 The APS has a temporary position (1 year) for an Assistant Conservator for Library and Archival Materials.
American Philosophical Society
Assistant Conservator for Library and Archival Materials
Temporary (one year), full-time
Departmental Program Summary:
The Conservation Department at the American Philosophical Society is responsible for the preventive care as well as conservation treatment for items found in a diverse special collections library. This growing collection includes over 13 million manuscripts (including parchment-based deeds and indentures), 275,000 volumes and bound periodicals (including thousands of rare books), and thousands of maps, prints, and photographic materials in a variety of formats.
Position Description:
Under the direction of the Head of Conservation, the Assistant Conservator for Library and Archival Materials aids in preventive conservation for the Society and performs conservation treatment on a variety of materials. This position is for one year, beginning in September of 2015.
Responsibilities:
Performs conservation treatment on books, manuscripts, and works on paper.
Provides written and photographic documentation in accordance with the AIC Code of Ethics (including examination, condition and treatment reports, and photographic documentation).
Participates and assists in a wide range of preventive conservation activities including disaster preparedness and recovery, pest management, minor mold remediation, examination and preparation of materials for loan, and environmental monitoring.
Assists in the general maintenance and organization of the conservation laboratory.
Assists in the preparation and display of materials for exhibition.
Keeps abreast of current developments in the conservation field.
Performs other duties as assigned.
Qualifications:
Master's degree from an accredited graduate training program in conservation or a related field.
Demonstrated working knowledge of conservation theory and practice, with satisfactory completion of courses in general chemistry, organic chemistry and conservation science.
Ability to wear a respirator and other personal protective equipment.
Ability to lift 40 pounds.
Demonstrated computer skills including use of Microsoft Office Suite and Adobe Bridge/Photoshop.
Demonstrated mastery of written and oral communication.
Demonstrated success in a wide range of conservation treatment procedures and techniques.
The Society offers a competitive benefits package, including exceptional health insurance options and generous fringe benefits, including a TIAA-CREF retirement plan, dental insurance, life insurance, and paid vacation and sick time. Salary: low to mid 50K.
The American Philosophical Society is an EOE. Applications will be accepted through June 10. To apply send a CV, a cover letter explaining qualifications for and interest in the position and three references to libraryapplications@amphilsoc.org
About the Library:  Founded in 1743, The American Philosophical Society's library, located near Independence Hall in Philadelphia, is a leading international center for research in the history of American science and technology and its European roots, as well as early American history and culture. The Library houses over 13 million manuscripts, 275,000 volumes and bound periodicals, thousands of hours of recorded sound, and thousands of maps and prints. Outstanding historical collections and subject areas include the papers of Benjamin Franklin (14,000 letters and documents); Jefferson's holograph of the Declaration of Independence; the American Revolution; the papers of Thomas Paine; 18th and 19th-century natural history; western scientific expeditions and travel including the original journals of Lewis and Clark; polar exploration; the papers of Charles Willson Peale, his family and descendants; American Indian languages; anthropology including the papers of Franz Boas; the papers of Charles Darwin and his forerunners, colleagues, critics, and successors; history of genetics, eugenics, and evolution; history of biochemistry, physiology, and biophysics; 20th-century medical research; and history of physics. The Library does not hold materials on philosophy in the modern sense.  More information about the Society and the APS Library can be found at www.amphilsoc.org