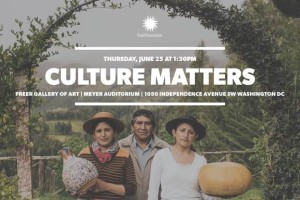 June 25, 2015, 1:30 – 5:30 P.M.
Freer Gallery of Art, Meyer Auditorium, 1050 Independence Ave SW Washington DC
Co-hosted by the Smithsonian Institution and The George Washington University, this symposium and panel discussion will bring together cultural heritage and tourism scholars and practitioners to explore the potential for greater collaboration and positive social and economic impact. Cultural heritage can serve as a resource to sustain the collective identity of a people and a place. International tourism can be an important tool for economic growth, especially when it emphasizes community engagement and experiences based on unique and compelling narratives. Cultural sites, museums, festivals and intangible cultural heritage like music and dance are integral components of the most successful tourism destinations.
By asking critical questions about how we determine what success looks like for cultural heritage tourism and exploring why varied approaches succeed or fail, this program aims to identify new ways scholars, practitioners, communities and culture-bearers can work together to build sustainable cultural tourism opportunities.
Undersecretary for History, Art and Culture Richard Kurin will give closing remarks, and the panels will include Smithsonian staff from the Center for Folklife and Cultural Heritage, National Museum of the American Indian, Office of International Relations, and Smithsonian Enterprises.
The first 200 RSVPs will receive a free copy of Inca Road – the second installment of the new Smithsonian Travel Quarterly!
To RSVP and view the full speaker list, updates, and more, visit: http://culturematters.splashthat.com
For further information on this message, contact Amanda Long, OIR, x38957 (VoIP) or 301-204-3502 (non-VoIP), LongAm@si.edu.