Archive August 2015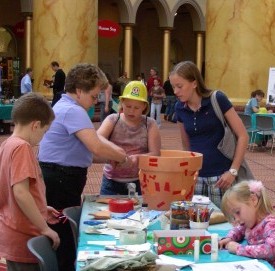 The WCG Outreach Booth will participate in the annual National Building Museum's  "Big Build". The event takes place on Saturday, September 19th, from 10 AM to 4PM. The event is located at 401 F Street NW, Washington DC.

Smithsonian American Art Museum
The Smithsonian American Art Museum will advertise the position of Objects Conservator on https://www.usajobs.gov/
in late August – early September. The position will be a full-time, permanent position. The Federal position will be at a GS-11 level (starting salary $63,722).
The Smithsonian American Art Museum and its Renwick Gallery share a conservation department.

The Washington Conservation Guild (WCG) will host an encore presentation of Studio Design Challenges: Creating a Safe and Practical Space, the joint Health & Safety Committee and Conservators in Private Practice (CIPP) lecture from this years' AIC Annual Meeting in Miami.
The Washington Conservation Guild Presents the first meeting of the 2015/2016 season. Please join us September 3, 2015 for our Annual Meet and Greet at Congressional Cemetery.

PastForward, the National Preservation Conference, is the premier educational and networking event for those in the business of saving places. Held in Washington, D.C., November 3-6, PastForward is brought to you by the National Trust for Historic Preservation.

The Virginia Association of Museums (VAM) is pleased to announce the nominees to the 2015 Virginia's Top 10 Endangered Artifacts program. The public is invited to vote for their favorite endangered artifact and may also donate toward its conservation starting August 1st.

Fall is almost here and with that usually comes a new crop of interns and fellows. The Washington Conservation Guild encourages its emerging professionals to participate in the many activities it has to offer in addition to its monthly meetings, including tours of area conservation laboratories, happy hours with ECPN, and our Portfolio Day. WCG also supports its interns through the Sidney Williston Fund every year.