Archive November 2015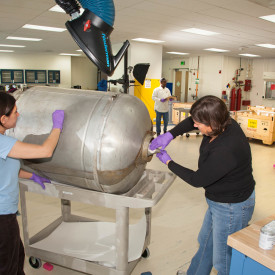 NASM Conservation Unit
National Air and Space Museum: Conservation Internships
Project Title: Conservation Triage Project: Conservation Internship, Summer 2016
Location: Steven F. Udvar-Hazy Center, Emil Buehler Conservation Laboratory, Virginia
Duration: 10 weeks (May to August 2015 time frame)
Amount: $6000
Two conservation interns are requested to assist the NASM Conservation unit with examination, documentation, conservation treatment and rehousing of objects in the NASM collection.

The Washington Conservation Guild proudly presents
3rd Annual Intern and Fellow Portfolio Day
Thursday November 12, 2015
5:00- 6:30 p.m.
Welcome, pre-programmers! We hope you will take advantage of this amazing opportunity to view portfolios and ask questions about graduate education in art conservation. You'll have the chance to meet current students and recent alumni from the North American art conservation graduate programs.
Please join the Washington Conservation Guild
Thursday, December 3, 2015
Annual Holiday Party and Lecture
Corine Wegener
Cultural Heritage Preservation Officer, Smithsonian Institution
Cultural Heritage in Crisis: Recent Smithsonian Projects