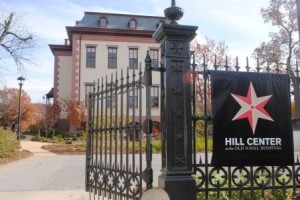 Please join the Washington Conservation Guild
Thursday, December 3, 2015
Annual Holiday Party and Lecture
Corine Wegener
Cultural Heritage Preservation Officer, Smithsonian Institution
Cultural Heritage in Crisis: Recent Smithsonian Projects
The meeting will be held at
The Hill Center at the Old Naval Hospital
921 Pennsylvania Avenue, SE, Washington, DC
*Please note that the Hill Center is located on Capitol Hill, Southeast of the U.S. Capitol Building, 2 blocks east of the Eastern Market Metro stop on the Blue, Orange, and Silver lines. Public transportation is recommended. For more information please go to:
http://www.hillcenterdc.org/home/about/hours-directions-parking
Reception 5:00 p.m. – 6:00 p.m.
Lecture 6:00 p.m. – 7:00 p.m.
This event is free to WCG members, $5 for guests & non-members.
For more information about this meeting or WCG, please visit our website www.washingtonconservationguild.org
If you have not yet renewed your membership, please take this opportunity to renew online OR in person at our meeting!