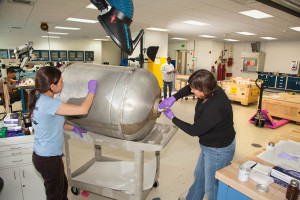 NASM Conservation Unit
National Air and Space Museum: Conservation Internships
Project Title: Conservation Triage Project: Conservation Internship, Summer 2016
Location: Steven F. Udvar-Hazy Center, Emil Buehler Conservation Laboratory, Virginia
Duration: 10 weeks (May to August 2015 time frame)
Amount: $6000
Two conservation interns are requested to assist the NASM Conservation unit with examination, documentation, conservation treatment and rehousing of objects in the NASM collection. The interns will work with NASM conservators and contract conservators as part of a larger project team. Object types are widely varied and include the full range of materials relating to the history of aviation and space exploration. The interns will work in the Emil Buehler Conservation Laboratory at the Steven F. Udvar-Hazy Center in Chantilly, Virginia. Interns must have a car in order to work at the Udvar-Hazy Center in Chantilly, Virginia.
The interns will perform artifact examinations, condition reporting, documentation and triage conservation treatments of assigned objects in the laboratory relating to a collection survey project. The interns will be able to utilize analytical equipment in the laboratory to perform materials analysis.
They will assist NASM staff with other duties as necessary related to the project, such as collaboration with curators, museum staff and project team members. With staff approval, the intern may initiate research on a specific material as part of the project, or investigate a treatment methodology in relation to on-going work in the laboratory. This research can take up to 20% of the intern's time. A poster presentation and documentation on the research should be produced at the end of the internship.
Preferred graduate level training in a conservation training program. Skills in materials science, conservation treatment, chemistry or related subjects in addition to digital photography and technical writing. Attention to detail. The intern should be self-motivated, willing to work independently as well as in a team and should be capable of managing multiple projects, deadlines and tasks.
Please submit resume, three professional references and a letter of interest by December 30, 2015 to:
Lisa Young, Objects Conservator
Smithsonian National Air Space Museum
youngla@si.edu
703-572-4362