The Washington Conservation Guild December Meeting and Holiday Party was held at the Hill Center at the Old Naval Hospital in SE Washington, DC. The speaker for the evening was Corine Wegner, the Smithsonian Institution's Cultural Heritage Preservation Officer. Wegner served in the United States Army Reserve before becoming a curator of Decorative Arts, Textiles, and Sculpture at the Minneapolis Institute of the Arts. Wegner served as the Arts, Monuments, and Archives Officer in Baghdad, Iraq, from 2003-2004, and as the president of the US Committee of the Blue Shield. Today, Wegner is the Smithsonian Institution's Cultural Heritage Preservation Officer, working to train and educate museum workers and military personnel worldwide in preventative and emergency care for museum collections and sites of cultural heritage.
Wegner's presentation, "Cultural Heritage in Crisis: Recent Smithsonian Projects," was an overview of the Smithsonian's recent collaborative efforts in coordinated emergency response and organized workshop trainings in disaster care
for collections. Wegner began by discussing the Haitian Cultural Recovery Project. After the earthquake in Haiti in 2010, the Smithsonian Institution partnered with the Government of Haiti, as well as many other organizations, to recover and protect Haitian cultural heritage. The Cultural Recovery Center in Port-au-Prince houses conservation labs where experts work to restore artworks and artifacts, as well as train Haitians in conservation. Wegner then discussed the Smithsonian's work with the Museum of Islamic Art in Cairo. Almost a year ago, a truck bomb aimed at police devastated the first floor of the museum. The Smithsonian Institution, in collaboration with the Metropolitan Museum of Art and the International Council of Museums, went to the museum to assess the collection in collaboration with museum staff and discuss the future plans for conservation of the collection.
Another project discussed in detail was the emergency preservation at Syria's Ma'arra Mosaic Museum. The museum has faced severe damage during the civil war. The collection of mosaics is permanently installed in the museum, and in danger of collapsing. Wegner described the details of planning such a project, such as consulting with experts and obtaining materials for such preservation while abroad. The team used Tyvek and cotton sheeting with water-soluble glue to hold the mosaics in place. Then, countless sandbags were laid in front of the mosaics to protect them from possible explosions or other damage.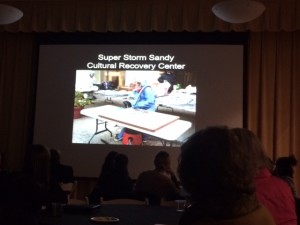 Wegner ended the presentation with a discussion of the success of the response to the earthquake in Nepal. In partnership the Nepal Department of Archaeology and other organizations, the response team built a stabilization workshop and trained Nepalese Army personnel in correct recovery and handling of objects of cultural heritage. Lastly, Wegner discussed the role of the Smithsonian's Cultural Heritage Preservation on the ground in the US. Along with workshops for museum staff, the department trains our military through the Civil Affairs Corps.
Summarized by Kaitlyn Wright, Pre-Program Intern at the Hirshhorn Museum and Sculpture Garden