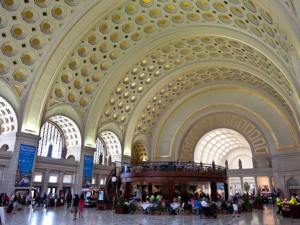 This is a special invitation for a behind the scenes tour of the restoration work in the Main Hall at Union Station. Join members of The Gilders' Studio and  the restoration team  for an up close and personal look at the final phase of  gilding and plaster restoration high above the floor of Main Hall.
Union Station was designed by Daniel Burnham and completed in 1907. Combining elements of the classical and Beaux-Arts  styles, it is one of most recognizable and popular landmarks in Washington. Begun in 2012, this latest work is to repair and upgrade the concourse and main hall as a result of the earthquake in 2011. Due to be completed this spring, this will be the last chance for many years, to climb the scaffold and observe the work taking place in situ, 100' above the floor.
Due to load factors, the tour is restricted to 12 attendees and will take place from 9:00AM to 10:30AM  on February 18. Hard hats will be provided. Please wear sensible shoes as there are over 100 stairs to climb to the top of this active construction site. Contact Michael Kramer at mkramer@gilders.com for more information and to sign up. Again, space is limited so this will be on a first come basis.