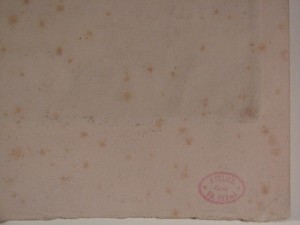 The Library of Congress Conservation Division is pleased to announce a lecture given by New York-based Paper Conservator Sarah Bertalan on Foxing and Reverse Foxing: Condition Problems in Modern Paper and the Role of Inorganic Additives on Monday, February 29, from 11:00 am – 12:00 noon, Library of Congress James Madison Memorial Building, Pickford Theater (Third Floor), 101 Independence Ave SE. The lecture is part of the Library's Topics in Preservation Series. Read More: https://www.loc.gov/preservation/outreach/tops/foxing/index.html
Many works of art on modern papers are known for their conservation treatment challenges. Modern papers appear to age quickly and may not respond predictably to typical conservation treatment procedures. Stains and discoloration that have been successfully addressed will reappear, in some instances, almost immediately after treatment. Because of omissions in our literature and theory, paper conservators may lack accurate information about the complexity of modern paper.
The field of paper conservation has adopted terminology from the paper making and paper testing literature. In general, paper condition is described in terms of cellulose and carbohydrate chemistry. However, systematic examination and treatment of late nineteenth- and early twentieth-century works of art on paper suggest that something other than cellulose may be reacting in these complex substrates.
Beginning in the nineteenth century, and inherent to the science of paper making today, non-fibrous, inorganic additives were routinely added to fiber stock. Yet, apart from the aluminum sulfate in alum-rosin sizing, the role that inorganic additives may play in the appearance of works of art on paper is not acknowledged in the paper conservation literature. Moreover, the mineral and metal oxide pigment additives employed in modern papers are not inert in the conditions that are known to cause damage to works of art. Based on treatment experience, close observation, analysis, and study of reflectance and fluorescence under ultraviolet illumination, this talk suggests that inorganic additives may play a role in condition, conservation treatment, and results.
Speaker: Sarah Bertalan, Conservator and Consultant, Works on Paper, New York, NY