Archive March 2016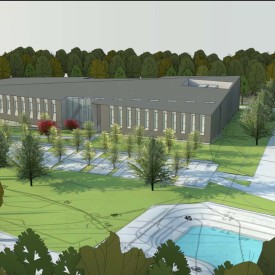 The United States Holocaust Memorial Museum has an opening for a Preventive Conservator and a Conservation Technician. This is an opportunity to contribute to the preparation of the the USHMM collections for the upcoming move from the current storage facility in Linthicum Heights, Maryland to a new purpose-built facility, the Shapell Collections and Conservation Center located in Bowie, Maryland.

Please come to the next meeting of the Washington Conservation Guild at the Smithsonian American Art Museum in DC on Thursday April 7, 2016.

At the January 3 Ring Circus, as part of Ring # 3 (BIG Conservation), Joseph Abriatis, Construction Manager at Architect of the Capitol, presented a lecture on the restoration of the capitol building dome. The dome was built over 150 years ago and was last restored in 1959-60.

For its February meeting, WCG hosted a debate: Star Wars vs. Star Trek: Which pop-culture franchise is the most worthy of preservation? Speakers included Ariel O'Connor, National Air and Space Museum Conservator; Beth Richwine, National Museum of American History Senior Objects Conservator; Mary Coughlin, George Washington University Assistant Professor and Director of the Distance Education Program; and Curtis Bateman, International Brotherhood of Electrical Workers Museum Curator.

Judy Jacob, Senior Conservator with the National Park Service, Northeast Region; Historic Architecture, Conservation, and Engineering Center, presented the third and final talk of the "BIG Conservation" session of the Washington Conservation Guild's 3-Ring Circus. In her talk entitled, "Biofilms on the Thomas Jefferson Memorial," Jacob provided a brief history of neo-classical monuments in Washington, their construction from domestic white marble, and their intended pristine appearance.

The November talk featured an encore presentation of Studio Design Challenges: Creating a Safe and Practical Space, from the 2015 AIC Annual Meeting.  We were joined by Jeff Hirsch, William Jarema, Dan Klein and Roger Rudy of EwingCole to discuss matters for improving in-home and private conservation studios.  Topics included ventilation issues, building locations and workplace set-up, storage cabinets.

The WCG booth will make its annual outing to the Historical Society of Frederick County Treasured Heirloom Event on March 26th. Join us as we discuss general conservation topics with owners of all kinds of interesting and miscellaneous collections.
We need a few WCG members to help staff the booth from 9am to 3pm.
http://hsfcinfo.org/events/index.htm#the
Please contact Caitlin Richeson at cricheson@mica.edu to volunteer