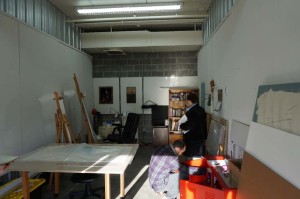 The November talk featured an encore presentation of Studio Design Challenges: Creating a Safe and Practical Space, from the 2015 AIC Annual Meeting.  We were joined by Jeff Hirsch, William Jarema, Dan Klein and Roger Rudy of EwingCole to discuss matters for improving in-home and private conservation studios.  Topics included ventilation issues, building locations and workplace set-up, storage cabinets.
Risk Assessment – understanding your space and environment, who and what will come in contact with the space, and what issues can arise- is an important issue.  Case studies included conservation studios in private homes and rented spaces.  One issue that continually pops up is the need for controlled environments and ventilation.  For example, in a publicly rented space with neighbors, you may take great care in monitoring your own air space but not have any control of the buildings ductwork leading through all the spaces.  Ventilation set-ups should be carefully thought out according to your space and needs.  The speakers showed several slides on various set-ups for different spaces, displaying directional air flow for intake and exhaust, air change and the pros and cons of recirculation units.  The important note was to understand your space and plan accordingly.
Another space issue is fire suppression and what system works for your space.  For your home, it may be better to rely on a fire extinguisher since it can be used in a small and controlled manner.  A sprinkler system is designed to be used in large spaces. In a private residence, a sprinkler system can cause more water damage and affect insurance costs.  In a public space you may not have control over the system and should prepare for such instances. Store artifacts in a protected location in case the building's sprinkler system goes off.
Throughout the presentation, the speakers gave practical information about chemical storage in private studios. Chemical storage cabinets could be purchased commercially and affordably. An inexpensive, metal, IKEA cabinet could be used to create safe containment according to code (National Fire Protection Association Code 30: Flammable and Combustible Liquids).  For many labs, it is not feasible to purchase expensive cabinets used in large institutions, and understanding the requirements to build your own can be of immense help.  It is also important to know the limitations of your space and the chemicals you can safely use.  If it's too dangerous, it's probably best not to do it at home.
The talk was of great use to conservators working in private, posing questions to be asked when creating your space and how to approach the solutions.  The presentation given in Miami is available for download from the Health & Safety Committee's website: http://www.conservation-wiki.com/w/images/f/f0/H%26S_Presentation-Studio_Design_Challenges_AIC2015.pdf
Summarized by Dawn Wallace, Objects Conservator, National Museum of American History