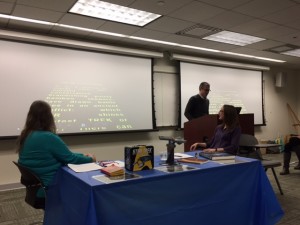 For its February meeting, WCG hosted a debate: Star Wars vs. Star Trek: Which pop-culture franchise is the most worthy of preservation? Speakers included Ariel O'Connor, National Air and Space Museum Conservator; Beth Richwine, National Museum of American History Senior Objects Conservator; Mary Coughlin, George Washington University Assistant Professor and Director of the Distance Education Program; and Curtis Bateman, International Brotherhood of Electrical Workers Museum Curator. The moderator was Nick Partridge from the National Air and Space Museum. The debate was held at the George Washington University's Museum Studies Program Space.
For the debate, Ariel O'Connor and Beth Richwine represented Team Star Trek and Mary Coughlin and Curtis Bateman were representatives for Team Star Wars. Ariel O'Connor's expertise to represent Team Star Trek came from her work on the restoration of the original TV prop of the U.S.S. Enterprise and her enthusiasm for the Star Trek show, books, and movies. Beth Richwine brought her own zeal for Star Trek, being a longtime fan of the franchise. Mary Coughlin's background as a representative of Team Star Wars is from her work on the 1983 costume of C-3PO, from the original Star Wars Trilogy. Curtis Bateman's expertise rises out a lifetime love of the movies he has seen numerous times.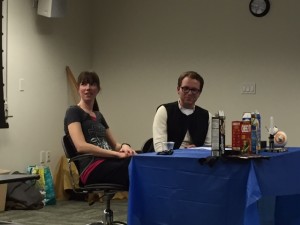 Many of the debate questions focused on the impact that each franchise had on the culture, as well as scientific inventions. For the cultural influence, Team Star Trek presented its position that it was the first show to have an African-American woman play a non-serving role on television, which inspired a generation of African-American girls. Actress Whoopi Goldberg and Mae Jamison, the first black female astronaut, were mentioned as two examples of African-American women who considered actress Nichelle Nichols to be a role model, while she played Lieutenant Nyota Uhura on Star Trek: The Original Series. In scientific advancement, the X-ray fluorescence gun (XRF), now a beloved conservation instrument, was designed to look like a phaser gun. Team Star Wars championed the idea that the trilogies were the modern recreation of the ultimate hero myth, good's triumph over evil. In this aspect, Mr. Bateman described Star Wars as the vessel for being the next chapter in a long line of mythic stories, starting from the Epic of Gilgamesh through King Arthur and beyond. For scientific advancement, Team Star Wars spoke about the coveted lightsaber, which has not yet been invented, but is being slowly developed by physicists and inventor fans.
Nick Partridge also fielded other questions to the Teams, which leaned more on fandom topics. Some of these questions included the following: "Which occupation is more challenging: a Wookie barber or a Klingon phrenologist?"; "Who has the better food?"; "If you had to pick one object from each galaxy to preserve, what would it be?"; and "Which franchise had a better satire movie, Star Wars with Space Balls or Star Trek with Galaxy Quest?".
For the original question of "Which pop culture franchise is the most worthy of preservation?," Team Star Trek won. While Team Star Wars advocated strongly about the power of myth and the iconic film factor held in their galaxy far, far away, in the end the odds of them winning were 3,720 to 1. Team Star Trek won the debate by sticking to their prime directive, citing the wide- reaching effects Star Trek has had on American culture and its influence on current science and technology.
Summarized by Leah Humenuck, Navy History and Heritage Command Underwater Archaeology Conservation Intern, spring 2016