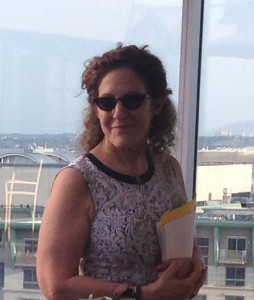 As we come to the end of another WCG year, I would like to thank all of you who have contributed to the success of our meetings, intern tours, and special opportunities. I would also like to thank those of you who took advantage of the programs we offer and joined us each month. All of you demonstrated through your speaking, arranging meeting space, contributing ideas, or simply showing up, that you value WCG and its efforts to grow the community.
The WCG Board has already begun planning for next year, the 2016/2017 season, the 50th anniversary of the Washington Conservation Guild. We are also planning some special events for the Membership to celebrate the past half-century and a look forward to the years to come. We welcome not only your ideas of how to honor the WCG community, but also your memories and stories. Feel free to email or call any of us, or contact us through wcg@washingtonconservationguild.org
Over the past few years, costs to the WCG have continued to increase. The Board has made the decision to raise the dues to $35.00 for general membership and $25.00 for students/interns/fellows. All renewals received before July 1st, 2016 will be charged at the current rate of $30.00 and $20.00. So take the hint and renew online now. Better yet, come to the Membership Meeting and Raffle on May 5th on the rooftop of the IBEW Building. Not only will you be able to renew, but you can purchase raffle tickets and maybe win one of the items donated to the event. As a reminder, benefits of membership include:
    Networking opportunities to connect with your colleagues from across the region
    Leadership opportunities to further the mission of WCG
    Outreach opportunities to engage the public
    Opportunities to engage with students and contribute to the next generation of conservators
    An active website listing regional job opportunities, workshops, lectures and other items of interest
    Talks and special events that are timely and relevant to contemporary developments in conservation
    A regional organization of members with experience, expertise, and a willingness to share
    A tax deduction. Your membership fees, contributions to the receptions, and other donations to WCG, a 501(c)(3), are fully deductible.
I look forward to hearing from you and seeing you in the coming year.
Sincerely,
Jane E Klinger, President