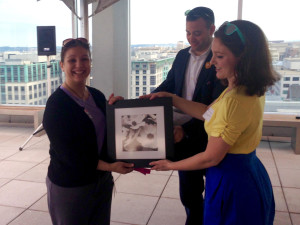 The Annual Business Meeting, Election of Officers and Raffle is on May 5, 2016. Come join the fun at this beautiful roof-top venue that over looks the District of Columbia!
Elections will be held for the following positions:
Vice President, 2 year term
Membership Secretary, 2 year term
Board of Directors, 3 positions open 2 year term
Board of Directors, 5 positions open for 1 year
Raffle items include: Books, IMAX tickets, Ceramics, a hand carved wooden vase, items from Cambodia,  an autographed baseball signed by major league outfielder Frank Robinson, and more. Each member will receive one free raffle ticket.  Additional tickets may be purchased for $ 1.00 each or 6 tickets for $5.00.
Notice of dues increase: Annual WCG members ship dues will increase in July. Regular membership will increase from $30.00 to $35.00. Student and Intern rate will increase from $20.00 to $25.00. So join or renew your membership now to save.
The meeting will be held at the International Brotherhood of Electrical Workers
900 Seventh Street, NW, Washington, DC
5:00 p.m. – 5:45 p.m. reception
5:45 p.m. – 6:45 p.m. speakers
Members will be asked to sign in and present a picture ID and will be escorted to the roof top.
Closest Metro Stations: Yellow, Green and Red Lines at Gallery Place China Town; Red, Orange, Blue and Silver at Metro Center.This event is free to WCG members, $5 for guests & non-members. For more information about this meeting or WCG, please visit our website www.washingtonconservationguild.org