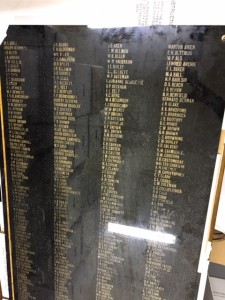 The Washington DC City Council is looking for a qualified conservator to conserve and mount the WWII Memorial, currently in storage at the city Archives.
The memorial consists of five 2×4′ black glass panels with inscribed and gold-painted names of DC employees who served in WWII.   The panels were damaged during deinstallation decades ago.  At least one is in many fragments, several are in two pieces, and most have suffered damage or losses around the corner mounting holes.
The client is looking to have the panels repaired as much as possible and prepared for reinstallation by Veterans Day, 2016.
Anyone interested should contact Josh Gibson at jgibson@DCCOUNCIL.US