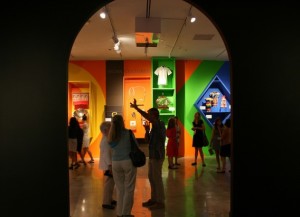 Illumination of Museum Collections: Optimization of the Visual Experience
National Gallery of Art, Washington, DC
November 10, 2016
$139 AIC members; $199 non-AIC members
The Foundation of the American Institute for Conservation (FAIC) will present a one-day workshop that will analyze key factors that influence the visual experience of objects on exhibition. The focus will be on how to balance the need for a high-quality visual experience while limiting light-induced damage. The workshop will explore how to implement these fundamental principles in a museum setting utilizing recent advances in lighting technology, including LEDs, new lighting control options, the use of daylight, and the merging of new and legacy lighting systems.
The workshop will be led by Steven Weintraub, founder and Principal of Art Preservation Services, and Gordon Anson, Deputy Chief of Design Head of Exhibitions Production, and Chief Lighting Designer at the National Gallery of Art. Support for the workshop is provided by the National Endowment for the Humanities, and scholarships are available through FAIC.
Learn more at www.conservation-us.org/Illumination-of-Collections.