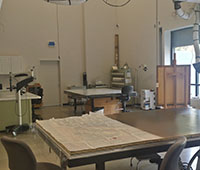 ARTEX Conservation Laboratory, based in the greater Washington, DC metropolitan area, is seeking a full-time Director of Conservation with a specialty in paintings. The essential functions of this position are directing the operations of the conservation laboratory and managing the activities of the staff conservators, interns and contractors in providing conservation care, treatment and advice for clients.
The ARTEX Conservation Laboratory is housed in a spacious, modern studio space in the Washington, DC area. ARTEX provides museum standard environmental controls, security system, and fire protection, in addition to excellent storage capabilities, professional art handling, and an art crating workshop on site. The Conservation staff consists of 4 full time painting conservators, 1 part time objects conservator, and a conservation technician/administrator.
Candidate must haves:
Post graduate experience including extensive experience in the examination and treatment of paintings, particularly modern and contemporary paintings as well as murals and architectural paintings.
Experience with the preparation and presentation of grants, contract proposals, reports, lectures, publications, and seminars relating to conservation.
Proven track record in generating and growing new business and driving client relationships.
For more information about the position visit: http://www.artexfas.com/wp-content/uploads/2016/08/DirectorofConservationsSvc08042016.pdf
If you are interested in this position, please forward a cover letter, resume, available start date, and salary history/requirements to our HR department at jobs_dc@artexfas.com for immediate review/consideration.