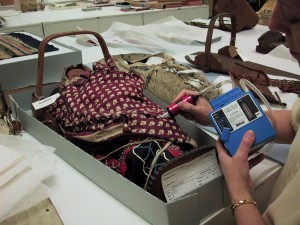 A collaborative professional seminar focused on controlling health and safety risks from preparing, treating, managing, and exhibiting artistic, historic and natural science collections will be offered by the Potomac Section of the American Industrial Hygiene Association, the Washington Conservation Guild and the Smithsonian Institution's Office of Safety, Health and Environmental Management.
 Examples of abstract topics include:  Safety challenges in Gallery exhibit installation, Exposure assessments and remediation of unique hazards in Museum Collections, Hazardous material abatement in Historic Houses, Health and safety risks of conservation treatments or Chemical hygiene for the conservator's workspace.  20-30 minute case studies are welcomed; co-presentations by IH/Safety and Conservation/Collection Care professionals are encouraged.  Note that abstracts on other topics can still be submitted for consideration.
Submit abstracts to Mary Kay Snow at mksnowva@yahoo.com  By Friday 16 September for consideration.
Seminar hosted by the Lunder Conservation Center, on Tuesday November 8th 2016; 9:00 am – 5:00 pm, at the Smithsonian American Art Museum, 8th and F Streets, NW, Washington, DC.
Questions regarding this event, please call Mary Kay 703-374-8423.