Archive September 2016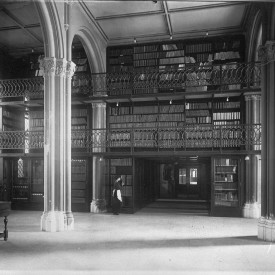 The Smithsonian Libraries (SIL) announces the posting of a temporary two-year, trust, book conservator position at the IS-09 level ($53,435.00 – $69,460.00). This is not a Federal Position, but has similar requirements and benefits. The job announcement will be open from October 4, 2016 – October 18, 2016.

"Conservation of Our Collection: Claggett Wilson"
Thursday, September 28, 2016, 4:00 pm
MacMillan Education Center
Join paper conservator Catherine Maynor as she discusses artist and D.C.-native, Claggett Wilson; she will focus on his watercolors both as works of art and as documents of wartime trauma.
For more information, see the SAAM calendar
http://s.si.edu/2cWgyWI

The Advisory Council on Historic Preservation (ACHP) is pleased to make you aware of an event at the U.S. Capitol Visitor Center that commemorates the 50th anniversary of the passage of the National Historic Preservation Act in Washington, D.C., on Friday, September 23. The "Preservation Day" event for the general public, which will take place from 10 a.m.

The Washington Conservation Guild presents the second meeting of the 2016/2017 season
Please join us at ARTEX Fine Art Services in Landover, MD
on Thursday, October 6, 2016
for a talk and tours of ARTEX Facilities and Conservation Lab:
Mountmaking for Conservation with Consideration for Long-Term Display and Storage

Thursday, September 22, 2016, 4:00 pm
Smithsonian American Art Museum
McMillan Education Center
This presentation by Chris Stavroudis will introduce the various uses of silicone solvents to conservators in both theory and practice and will review the formation and uses of emulsions, both conventional and micro- emulsions.

The WCG Outreach Booth will makes its annual appearance at the National Building Museum's "Big Build" event on Saturday, October 15, from 10 am to 4 pm. The event is located at 401 F Street NW, Washington DC.

JOB TITLE: Senior Paintings Conservator
PRIMARY LOCATION: Hartmann Fine Art Conservation Services, Inc. conservation facility in Carlisle, PA
REPORTS TO: Chief of Conservation
STATUS: Full-time
APPLICATION PERIOD: Will remain open until filled

JOB TITLE: Assistant Paintings Conservator
PRIMARY LOCATION: Hartmann Fine Art Conservation Services, Inc. conservation facility in Carlisle, PA
REPORTS TO: Chief of Conservation and Senior Paintings Conservator
STATUS: Full-time
APPLICATION PERIOD: Will remain open until filled

The Library of Congress Preservation Research and Testing Division is pleased to announce a lecture given by Verena Lepper (Curator for Egyptian and Oriental Papyri, Ägyptisches Museum und Papyrussammlung, Berlin) and Heinz-Eberhard Mahnke (Honorary Professor, Physics Department, Freie Universität Berlin), on "Virtual reading of papyri within the Elephantine Project" Monday, September 12, from 1:00 – 2:00 pm