Thursday, September 22, 2016, 4:00 pm
Smithsonian American Art Museum
McMillan Education Center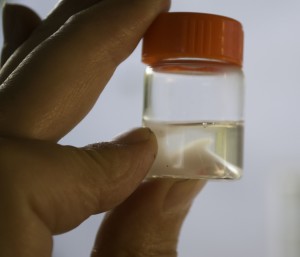 This presentation by Chris Stavroudis will introduce the various uses of silicone solvents to conservators in both theory and practice and will review the formation and uses of emulsions, both conventional and micro- emulsions.
Silicone solvents, relatively new to conservation, possess many properties of great utility to conservators. They are relatively non-toxic, have little to no odor, and are sublimely nonpolar. They have uses as neat solvents; in solvent mixtures; as protective, water-repellant barriers; and as components in microemulsions and polymeric emulsion stabilized systems. Modified silicone solvents, liquids and gels will be discussed as ways to extend the utility of the silicone world.
After an examination of salad dressing formulation, the basics of emulsions will be presented. Aqueous polymeric emulsion stabilizers (Pemulen and Xanthan Gum) will be discussed. An inverted phase (water in oil) conventional emulsion will be contrasted with microemulsions using both silicone solvents and mineral spirits as the continuous phase. Silicone-based polymeric emulsion stabilizers will be presented as versatile, non-surfactant based water in oil emulsification systems.
The Smithsonian American Art Museum is located at 8th and F St. NW, Washington DC 20004
The nearest Metro station is Gallery place, on the Red, Yellow and Green lines.