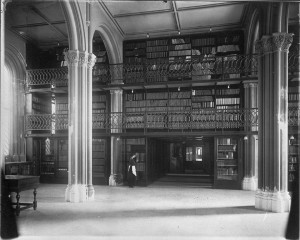 The Smithsonian Libraries (SIL) announces the posting of a temporary two-year, trust, book conservator position at the IS-09 level ($53,435.00 – $69,460.00). This is not a Federal Position, but has similar requirements and benefits. The job announcement will be open from October 4, 2016 – October 18, 2016.
The book conservator will join a conservation staff of two book conservators and two conservation technicians. As part of the Preservation Services Department, the conservator will provide support for SIL's extensive Adopt-A Book program by providing expertise in the areas of conservation treatment of special and general collections for SIL's 21 libraries located in the Washington DC metro area, New York, and Panama.
For the complete posting, please see http://www.sihr.si.edu (click on "Job Opportunities" and look for announcement number 16R-LC-302111-TRF-SIL)
*Due to the large number of qualified applicants for positions of this type, this job announcement will close at 11:59 pm Eastern Time on either:
(A) The closing date listed above or
(B) The date that 100 applications are received;
whichever occurs first. If the announcement closes on the date that 100 applications are received, all applications submitted by 11:59pm that day will be given consideration, including those in excess of 100.
We encourage applicants to apply as soon as possible to ensure their applications are submitted before the announcement closes. We will not consider applications which are late due to the announcement closing once the above number of applications is reached.
Questions regarding the position may be directed to Vanessa Haight Smith, haightv@si.edu