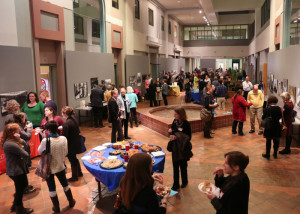 The Washington Conservation Guild's 50th Anniversary Season is in progress, and the 3-Ring Circus is approaching quickly. It will be held on Thursday January 5 at 5:30 at the Ripley Center of the Smithsonian Institution in Washington, DC. This year, we are requesting proposals for talks from our membership. In celebration of our 50th year, we are naming our three rings after our three founders: Gettens, Organ and Ripley.
For our three rings, we want to learn about the work you are doing now and how our members are shaping the conservation field for the next 50 years. While we will consider proposals for any conservation-related topic, we hope that our founders will inspire your proposals.
Rutherford Gettens: You probably have a copy of his book (written with George Stout) in your library: Paintings Materials: A Short Encyclopaedia. His technical research and scientific approach to conservation work moved our field toward the professional status it holds today.
Robert M. Organ: Director of the Conservation Analytical Laboratory (what has become the Smithsonian's Museum Conservation Institute), Organ advanced the science of conservation, preventive conservation, and laboratory design; and he pursued the study of materials and treatment techniques.
S. Dillon Ripley: As Secretary of the Smithsonian Institution, he took an active role in the advocacy of conservation and preventive conservation. He was so committed to our work that he issued a memorandum in 1967 that the Smithsonian would give the WCG its full support for regular meeting space.
Our founders were all part of the Smithsonian Institution, but the Washington Conservation Guild has grown and transformed to include conservators and related professionals in both museums and private practice across the Washington-Baltimore metropolitan area. Each of you contribute to the field in one way or another, including treatment, technical analysis, laboratory design, preventive conservation, fundraising, education, advocacy, and much more. Please consider sharing your experience and insight with fellow members.
The talks are less than 15 minutes each and nine will be selected. Please submit an abstract to 3-Ring@washingtonconservationguild.org by November 30.