Archive November 2016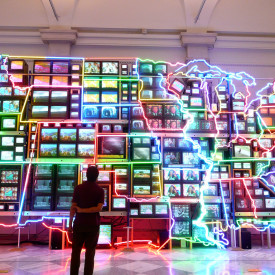 The Smithsonian American Art Museum is recruiting a Time-Based Media Conservator, open from Friday, November 18 through Thursday December 8, 2016.

Lecture on December 8, 2016 at 4:00 pm in the MacMillan Education Center at the Smithsonian American Art Museum
https://www.facebook.com/events/227775290992091/
This public lecture by Daria Keynan is being given in conjunction with the workshop "Cleaning and Conductivity: New Methods for Treating Paintings, Works on Paper and Textiles" at the Lunder Conservation Center. The workshop is full, but more information can be found by going to the AIC Courses website.

This Wednesday, November 30th Caring for Textiles invites you to a Studio Open House
please join them between 1-8pm, to see local friends and their current projects!
3924 Ingomar St. NW, Washington DC 20015
the closest Metro is Friendship Heights, on the Red Line
ample street parking is available
RSVP's are appreciated: 202-362-1941

The Conservation Division of the Library of Congress is now accepting applications for the 2017-2018 Harper-Inglis Post-Graduate Conservation Fellowship in the Conservation Division, Library of Congress, Washington, DC.

Cultural Heritage and Data: The Role of Research Infrastructures
Monday, December 5, 9:00-5:00 EST, at the Library of Congress
Tuesday, December 6, 9:00-4:00 EST, at the Smithsonian Institution

December—Washington, DC Registration deadline: Friday, November 18
Conservation Strategies for Archaeologists
Washington, DC—December 5-6, 2016

The US National Archives is seeking applicants skilled in Book or Paper Conservation to serve as a technical expert in the preservation of archival holdings. The Conservator will engage in National Archives conservation activities, examine and treat National Archives collections, apply and develop a range of housing and storage options, conduct training and make recommendations for preservation policies, programs and procedures.

We continue our 50th Anniversary Celebration with a party from 5:00pm to 7:30pm Thursday, December 1, 2016 at The Hill Center with The Gunston Manor Band!

The Library of Congress welcomes applications for its 2017-2018 internships in book, paper, and photograph conservation. The Library will accept one student in each specialty for the academic year to fulfill the final-year internship requirement of the U.S. conservation graduate schools.
As part of the WCG 50th anniversary celebrations, the Washington Conservation Guild, Potomac Section of the American Industrial Hygiene Association, and the Smithsonian Institution's Office of Safety, Health & Environmental Management presented a Professional Development Seminar, "Control of Health and Safety Hazards in Museums and Collection Care" on Tuesday, November 8, at the Smithsonian American Art Museum.