The Washington Conservation Guild presents the THIRD Meeting of the 2016/2017 Season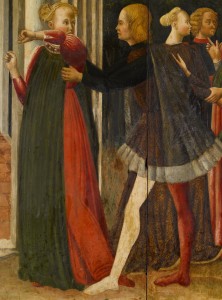 Thursday, November 3, 2016 at The Walters Art Museum
We continue our 50th Anniversary Celebration with a reception from 5:00 to 6:00 and the following talk and tour from 6:00 to 7:00
"The Face that Launched Ten Thousand Conservation Hours: Investigation & Treatment of the Walters 'Helen of Troy' Spalliere Panel Series"
Research, analysis and treatment have resulted in new revelations and dramatic results for three Italian Renaissance spalliere. Depicting the story of Helen of Troy, these extremely large paintings had languished in storage for decades due to their poor condition. The wooden panels once decorated an Italian palazzo and were extremely compromised due to aging of materials and past restorations. The Walters painting conservation staff will unveil its findings and lead a tour of the finished paintings.
Presentation by Eric Gordon, Head of Painting Conservation, Karen French, Senior Conservator and Pamela Betts, Associate Conservator.
Transportation to 600 N. Charles St., Baltimore, MD 21201:
MARC trains depart from Union Station and arrive at Baltimore Penn Station. Train scheduling information
From Penn Station, the Charm City Circulator is a free bus that runs from the station to the museum.
The public entrance to the museum is located near the corner of Centre and Cathedral streets. A staffed parking lot is located across the street from the museum at Centre and Cathedral streets for drivers.
Transportation information is on the museum website

This event is free to WCG members, $5 for guests & non-members.
For more information about this meeting or WCG, please visit our website www.washingtonconservationguild.org