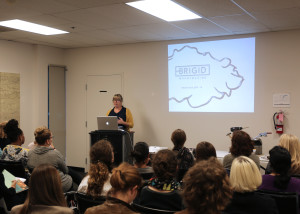 The WCG's second meeting of the season was hosted at ARTEX Fine Art Services in Landover, Maryland. As attendees settled in, they were generously greeted with goodie bags, courtesy of ARTEX, and invited on a general tour of the complex. David Paper, ARTEX warehouse manager, led groups through the crate shop and storage facilities, while Christina St. Germain and Kristen Loudermilk, ARTEX senior painting conservators, guided them through the 3,500 sq. ft. conservation lab.
Jane Klinger initiated the meeting by announcing this year's recipients of the Sidney Williston Award.  WCG congratulates the five interns who were nominated by their supervisors for their outstanding accomplishments in the field!  The honorees are: Tamia Anaya, Sophie Barbisan, Mariana Di Giacomo Caporale, Caitlin Mahony, and Robert Price.
The evening lecture, "Mountmaking for Conservation with Consideration for Long-Term Display and Storage," was presented by Jen Simons, co-founder of D.C.'s own Brigid Mountmaking.
Jen Simons, who began welding at age 14, has since built a wealth of knowledge and comprehensive skill set through working in structural steel, fine art rigging, and technical detailing.  Collectively, these experiences have fostered a unique approach to mountmaking, one that is clearly driven by a deep passion to care for the object by "aligning itself with conservation."
Brigid, named appropriately after the patron saint of blacksmiths, is a relatively new operation.  Founded two years ago, along with business partners Erika Johnson and Deanna Hovey, the company is chiefly concerned with the safety of the object and adherence to museum standards.  For this, the team refers to the list of accepted materials and is committed to fostering relationships with collection staff and conservators as much as possible.  This ensures the appropriate handling of an object and the utilization of safe materials  in the fabrication of a mount.  Brigid has worked nationally and internationally, serving such institutions as the National Archives, National Postal Museum, and new National Museum of African-American History and Culture.
In her talk, Simons illustrated the importance of mountmaking and its relation to conservation, focusing on mounts constructed for long-term display, study collections, and storage.  Simons' commitment to the craft was clearly conveyed in her presentation through two examples from the National Museum of American History: the Coal Miner's Prosthetic Leg and Red River Cart.  In both cases, the mounts provided stabilizing support and aided in long-term display.  The objects also required that their mounts be used for long-term storage after deinstallation, a recent trend in mountmaking that Simons has noted.  Fragile objects that cannot support their own weight in a crate may benefit from a mount, rather than from packing.
The Coal Miner's Prosthetic (date unknown) was such an object.  Built using a mix of found materials including wood, tin, chain, a metal bucket, and leather, the artificial leg was heavy and unwieldy.  This object was degraded to the extent that it would not be able to rest on its side after exhibition without altering its shape, therefore causing further damage on the object and more work for the conservator.
For its display, curators called for a case allowing the object to be viewed at 360 degrees.  A strong yet discreet support was required.  Simons worked to understand the object in order to make use of its inherent strengths.  She recognized that the lower part of the leg was "sound and heavy", a firm foundation onto which more delicate elements could be built and supported.   A combination of cold- foraged (no heat, hence naturally strong) and hot-foraged (annealed, therefore soft) techniques were employed in a balance to bring out the innate qualities of the mount materials.  Mechanical fasteners were employed to add extra sturdiness throughout the structure.  Finally, chemical patinas, polyethylene suede, Volara, and clear coats, such as Krylon Clear, were used for the final touches.
In her second example, Simons recounted the construction of the mount for the Red River Cart, a large, mid-19th century, wooden cart used during the fur trade.  The condition the Red River Cart was received in multiple, independent pieces.  Unable to support its own weight, the object required a mount that provided the illusion of being entirely intact and level.  Also necessary were elements that would allow the object to be wheeled as one unit through the museum.   As part of a process involving many steps, Simons built a "c-channel" frame, adjustable lifts, and locking collar; she also forged steel brackets to elevate the original wheels.  Ultimately, this fully-supporting mount was made using a combination of re-worked stock pieces and metal that was custom shaped to form to the contour of the cart.
The team at Brigid sees itself as an extension of the greater conservation effort to safeguard an artifact.   Whether built for short or long-term display or for safe storage, a mount should not be an afterthought.  According to Jen Simons, it is crucial to consider all aspects of the presentation of an object and asks, "why would we stop short in the final installation phase?" She urges the conservation community to help others in the museum industry to understand why mounts are so important, while establishing a relationship with the mountmaker, especially in the case of those who are contracted. A careful vetting process is urged in order to find mountmakers that are incredibly conscientious and knowledgeable about their materials' long-term effects.  Additionally, she suggests choosing a mountmaker who participates in conservation community discussions and is informed with the newest material research.
Summarized by Tamia Anaya, Pre-program Intern at the Hirshhorn Museum and Sculpture Garden, fall 2016