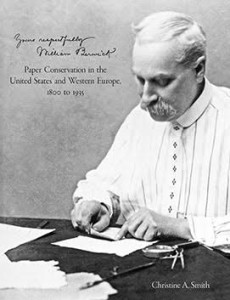 Christine Smith's "Yours Respectfully, William Berwick: Paper Conservation in the United States  and Western Europe, 1800 to 1935″ was just published. This history of 19th- and early 20th-century paper-conservation practices in the United States and Western Europe weaves together two story lines. The development and character of the profession unfolds in descriptions of materials and processes used in libraries, archives, and fine-arts museums; related scientific advances; differing approaches to treatment; the impact of broad cultural shifts; and sketches of people active in the field. The associated issues of architecture, dirt and pollution, vermin, lighting, temperature and humidity, heating and ventilation, and fire also are explored. In order to contextualize the main focus of the book, practices extending back to the late-18th century and forward to the mid-20th are outlined. Laid into this account is the professional biography of acclaimed manuscript restorer William Berwick (1848–1920). Although a few journal articles have examined this period, their focus, reference base, and use of primary sources has been limited: This book is the first to provide both a broad and detailed exploration of all aspects of paper-conservation activities during the period and is a major reference for those interested in Western paper-based artifacts.
The text is drawn from hundreds of primary sources including literature in the fields of scientific research; art restoration; library, archives, and museum management; correspondence; institutional memoranda and reports; conference proceedings; product advertisements; Berwick family documents; and general-interest books, journals, and newspapers of the time. Recent examinations of objects treated during this period and interviews and correspondence with later 20th-century conservators and Berwick descendants supplement the historical documents. Among the topics covered are fifty-nine specific treatment procedures: from initial examination and documentation through processes such as stain removal, washing, mending, aesthetic enhancement, mounting and storage methods to caveats for use. The evolution of reinforcement methods from translucent papers, pre-coated silk, and gauze overlays to experiments with synthetic coatings and cellulose acetate lamination are detailed. A description of the manuscript-restoration workshop at the Library of Congress and employees' experiences there illustrate the daily lives of late-19th-century conservators, while descriptions of national and international conferences demonstrate the extent and nature of collegial exchange. Mr. Berwick's activities as an independent conservator, businessman, and teacher reveal the extent of his influence; and a recounting of a devastating fire at the New York State Library and the disaster response that followed complete the picture of paper conservation during this period. A glossary, bibliography, appendices, and endnotes accompany the text. Numerous period illustrations – before- and after-treatment photographs, portraits, cartoons, conservation diagrams, advertisements, postcards, and other images – are included, many in full color.
696 pages  •  112 images  •  cloth, sewn  •  2016  •ISBN 9781940965017
•  $90.00  •50 copies available with a piece of the silk that William Berwick used to preserve George Washington's Last Will and Testament. THese special copies must be ordered from the publisher's website.
Between 1978 and 2000 Christine served WCG in a variety of Board and Committee positions. For example, she proposed the idea of the Conservation Services Directory, including its general design and the form of its chapters. Between 1997 and 2000 she worked as Chair of the directory's Editorial Committee, finding and working with the chapters' writers and writing several chapter essays herself.
She received an honors A.B. in art history from Vassar College (1972), worked as Technical Assistant in The Cleveland Museum of Art's Department of Prints and Drawings (1972-1975), received an M.S. in art conservation from the Winterthur Museum-University of Delaware (1978), and served as Paper Conservator at the Smithsonian Institution's Conservation-Analytical Laboratory (1978-1980) and National Portrait Gallery (1980-1984). She then set up Conservation of Art on Paper, Inc. in Alexandria, Virginia, which operated until 2010.  She was an AIC Fellow and treated objects ranging from George Washington's Last Will and Testament to Walt Disney's application to trade-mark "Mickey Mouse," as well as Pennsylvania-German fraktur, Japanese ukiyoe, and drawings, prints, and paintings by artists such as Alberto Giacometti, John Marin, Henri Matisse, Amadeo Modigliani, Edvard Munch, Pablo Picasso, John Singer Sargent, Henri de Toulouse Lautrec, and James Abbott McNeil Whistler.
This book grew from her research into William Berwick's conservation of George Washington's will and from my long-standing interest in nineteenth-century objects and culture.