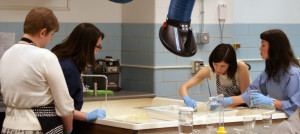 The Conservation Division of the Library of Congress is now accepting applications for the 2017-2018 Harper-Inglis Post-Graduate Conservation Fellowship in the Conservation Division, Library of Congress, Washington, DC. The Fellowship is open to U.S. citizens recently graduated from a recognized art conservation graduate program with a specialization in book, paper, or photograph conservation.  The Fellowship is made possible by the Harper-Inglis Memorial Trust Fund and is hosted by the Library's Conservation Division, the oldest and largest conservation lab in the United States for the conservation of book, paper, and photograph materials.
Responsibilities: The Fellow will pursue an independent research project and have the opportunity to acquire hands-on experience by participating in lab activities as they are conducted by Conservation Division staff, such as: conducting surveys; conservation documentation, treatment, and housing; research and analysis; digitization and/or exhibit preparation; collections emergency response and recovery; and environmental monitoring and analysis.  The Fellow can expect to interact with Library staff beyond the Conservation Division, including curatorial staff, staff responsible for exhibits and loans, and scientists in the Preservation Research and Testing Division.
Qualifications:
-U.S. citizen
-Graduate of a recognized art conservation graduate program or equivalent training
-No more than five years of relevant work experience
-Demonstrated experience conducting research
-Clear and effective writing and spoken communication skills
Term and Stipend: The fellowship begins October 2, 2017 and ends (or is extended for one year) on September 28, 2018 and comes with an annual stipend of $39,000.  The Library is unable to provide additional benefits–including health, retirement, or transit benefits–as part of the fellowship.
Application Process: Use the link below to access the application form and instructions.  Applications are accepted through December 31, 2016. For more information and to apply, visit: http://www.loc.gov/preservation/outreach/intern/HIcons.html
This fellowship is generously funded by the Harper-Inglis Memorial Trust Fund.
Elmer Eusman, Chief, Conservation Division, Library of Congress