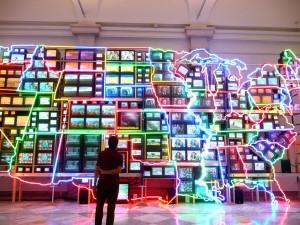 The Smithsonian American Art Museum is recruiting a Time-Based Media Conservator, open from Friday, November 18 through Thursday December 8, 2016.  The position is listed at https://www.usajobs.gov/GetJob/ViewDetails/456512400 or by searching for 'Smithsonian' or 'Conservator' at www.usajobs.gov.  This is a full-time, non-Federal position with benefits (IS-11, $64,650/year).
The Smithsonian American Art Museum and its Renwick Gallery have a collection of about 120 time-based media works. The new hire will assist in setting up a Conservation Media Lab for the museum and:
- Perform technical examinations of works of art to determine condition, deterioration treatment needed.
- Document work with written reports, photographs and other data as appropriate.
-  Address the preservation needs of artworks that include video, audio, software-based, electronic, installation, performance and other types of time-based media art.
- Plan for and carry out migration of time-based media art.
- Assist with collection care activities such as assessments, the intake of new acquisitions, facilitation of loans, cataloging of active and obsolete equipment, creation of installation instructions.
- Assist with the installation and maintenance of time-based media works on display.
Applicants should make sure that their resumes list their specific experience related to those duties.
If you have any questions please contact: Tiarna Doherty, Chief of Conservation, Lunder Conservation Center, Smithsonian American Art Museum. Email: dohertyt@si.edu; Tel: 202 633 5802
The Smithsonian is an Equal Opportunity Employer.